Few NBA teams are as well known for their owners as the Dallas Mavericks. Sure, the Mavs are a good – and sometimes great – team. But when the team is paired up with iconic owner Mark Cuban, now it's really something watchable. 
Along with owning the Mavs, Cuban is also well-known a (IMO) Shark #1 on ABC's business-related "Shark Tank" program. Hey…now that we're thinking about it, why hasn't Shaq ever been tapped as a business "shark?" Would be super-cool to see the big man make some million-dollar deals with budding entrepreneurs.
It just so happens that Cuban and Shaq's stories had an interesting intersection. While the Mavericks won the NBA Championship in 2011, there could have been more, if a blockbuster deal had happened. 
Back when O'Neal was having his trouble with Kobe and the Lakers, there was a few brief moments in NBA history when there was a chance that Shaq might have become a Dallas Maverick. Strange? For sure. How would O'Neal and bigger-than-life owner Cuban have gotten along? Sadly, we'll never know. 
In later years – and especially just before Kobe's untimely, tragic death – Shaq and Kobe returned to their close friendship. But we all remember that back in Lakers days, there was quite the feud between the two, as each tried to extend their control over the team. No matter what happened behind the scenes, the end result of all the trouble was Shaq being traded, eventually signing with the Miami Heat.
Recent reports and an interview with Mavs owner Mark Cuban reveals that the Mavs were also one of the teams interested in O'Neal. Shaq was 32-years-old at that time and still considered a force to be reckoned with in the game. Still, the Lakers determined they needed to stick with Kobe, who was younger than Shaq… someone they could rebuild the team around. 
So what happened with the Mavs? In an interview with sports network FS1 and reporter Kristine Leah, Cuban said he was definitely open to a trade to get Shaq… as long as it didn't involve his superstar player Dirk Nowitzki.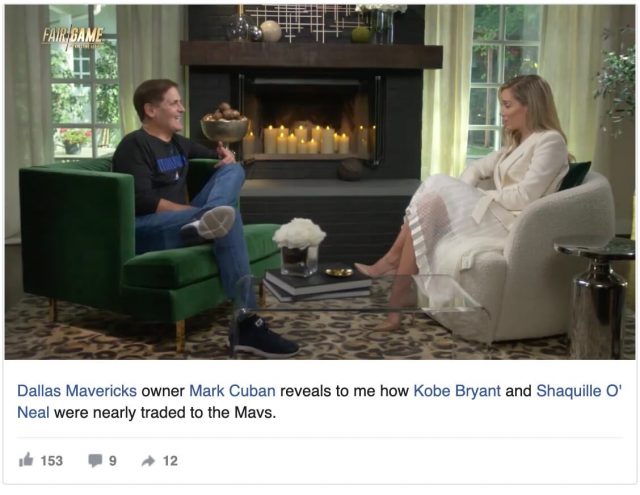 To see the full interview, click here! 
Shaq has talked in past interviews about being interested in the move to Dallas. He says he talked to Cuban about it more than once, a story Cuban has confirmed. "Shaq would get a hold of me all the time, 'Come and get me, come and get me, come and get me. Why haven't you got me yet?' every time I saw him," Cuban told Leah.
To say that it almost happened would be an overstatement. Seems the Lakers were interested… if the deal included Nowitzki – the one player Cuban was not willing to part with. For the Lakers, it was Dirk or no deal. You know the rest of the story…
Like we said, Dirk and the Mavs won it all at the end of the 2011 season. But it sure would have been interesting to see Shaq playing home games in the Big D. How many more titles would that have produced? We'll never know..