You've probably seen the TV commercials – they're super-cool – featuring Big Man Shaquille O'Neal and equally big breakfast cereal star Tony the Tiger. Tony and Shaq yelling "Gr-r-reat!" at each other is classic. Now the two are collaborating on a program to make sure schools have the money they need to keep school sports programs going in very challenging financial times. 
The program is called Mission Tiger. Question: Wasn't Shaq an LSU Tiger? Coincidence? Maybe not! Either way, the "mission" of Mission Tiger is to be sure middle schools get some help in keeping sports programs going. 
A press release from Kellog's (parent company of Tony the Tiger® and Frosted Flakes) quotes a group called "DonorsChoose" and a survey the group did of coaches and teachers. A shocking 70% said they anticipate cuts to overall sports funding due to the economic downturn this year. For many schools, that will probably mean big cuts to sports and other extracurricular activities. 
Both Shaq and Tony know that sports teach young people important lifetime skills such as leadership, teamwork and confidence. The goal of Mission Tiger is to help one million kids have and keep better access to sports by the end of 2021.
A press release from Kellog's lays out the details: "A goal this big requires teamwork — and Tony's tapping his Mission Tiger teammate and Kellogg's Frosted Flakes® superfan Shaquille O'Neal for an assist. Together, they're encouraging fans to join the mission to help close the middle school sports funding gap."
The work is already paying off in some areas. Tony and Shaq joined forces on a Zoom call earlier this year for kids in middle schools in Philadelphia in May. Donations are already being put to work to build an on-campus sports court that will help preserve teams from that schools' home court advantage.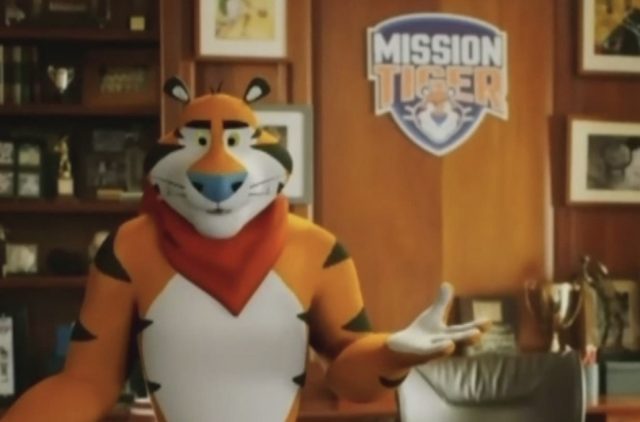 "I'm a lifelong fan of Tony and Kellogg's Frosted Flakes, so when I got the call to give the Young Scholars Charter School kids in Philly the chance to play, it was a no-brainer for me to join Tony's team," O'Neal said. "Sports can be such a great teaching tool for youngsters, which is why I'm committed to helping Tony provide kids with better access to an outlet that was so important for me."
From Kellog's, Marketing Director Brant Wheaton said, "Needs have grown exponentially and Mission Tiger continues to be part of the solution. This year, countless sport seasons were cut short and kids are missing out on the benefits of school sports, and that is why we're doubling down on our Mission Tiger commitment. To help get more kids back in the game, Tony and Shaq are asking teachers and coaches to visit MissionTiger.com and request their sports or gym class needs — whether virtual or in person."
Teachers, coaches and school administrators can visit MissionTiger.com to request funds for their school sports' needs. Fans can help schools in their local communities by joining the Mission. Anyone purchasing Frosted Flakes and uploading their receipt to Kellogg's Family Rewards® via MissionTiger.com will generate a $2 donation to support more school sports programs and facilities. 
Kellogs has promised at least a half million dollars to the work, and with enough uploaded receipts, that could top out at a cool million dollars. Thanks to fans coast to coast, students at middle schools nationwide will have better access to play sports.