Christmas is coming… can Shaq-A-Claus be far away? Of course not! Yet again, the big man is making a big difference in the holidays for kids in need. 
For more than 25 years now, Shaquille O'Neal has helped to bring toys and holiday cheer to underprivileged kids. It started with a partnership with then-retailer Toys"R"US. Shaq created the Shaq-A-Claus character, and became a spokesman for the annual Toys for Tots drive. 
Shaq made an appearance on this morning's edition of the TODAY Show (as of the date of this post) to renew the campaign. You can see the full video by clicking here. A few years ago, Shaq did an interview with Sports Illustrated Magazine to talk about the program and his history of helping kids in need. 
Shaq has been "all-in" with this program from the beginning. He told SI about how he got started all those years ago, when he was just getting started in the NBA with the Orlando Magic. "My mother went to a place with 400 kids, and she didn't want to make me pay for all 400 so she only wanted to pick 20 [kids]. So I told her to go back and talk to each of the 400 kids and write five of the gifts they want so me and my boys can go to the Toys"R"Us."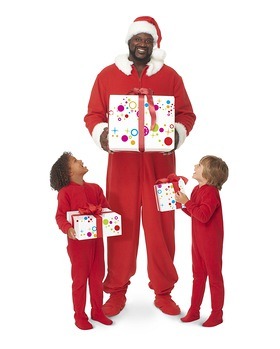 That started his work with Toys"R"Us and Toys for Tots. Shaq tells the story that when he was a young child, he sometimes had to go without Christmas gifts, so that other younger kids in the family wouldn't miss out. Then one year he got a Dr. J basketball. No surprise… Shaq says that gift changed his life. His only and favorite "toy." 
Shaq has always been a kid at heart. He told Sports Illustrated that he's grown to be jealous of the kids today, because of all the cool toys out there nowadays. "They have remote control cars and the ones that fly. They've got boats. I'm super, super jealous." 
No matter if it's Shaq-A-Claus or the "real" Shaq, O'Neal says he loves helping make the holidays special for youngsters. "I love meeting the kids, making them smile, [seeing] them have a good time. I want them to look at me as a example that they can make it. A lot of these kids don't really think they can make it, until they see someone similar to them."
Rock on, Shaq-A-Claus!