Set your smartphone calendar … DJ Diesel (also known as Shaquille O'Neal) will be appearing live on an upcoming streaming event… and you can catch it free. But you've gotta move fast. It's tomorrow night (as of this writing). 
It's the upcoming "virtual edition" of the Sports Illustrated Awards. Former Los Angeles Laker superstar turned DJ and business entrepreneur Shaq will be there… as we said, using his alter ego, DJ Diesel.
In an interview this week with celebrity TV show Entertainment Tonight, Shaq told reporter Nischelle Turner, "When I'm DJ Diesel with these kids, I give them what they want. I give them that head-banging music. I'm gonna mix it up. Make the people feel good."
If you've followed us here at ShaqFu Radio for any time, you know that music – and being a superstar DJ – is one of Shaq's passions. Sure, he's a business tycoon and TV commercial pitchman for lots of popular brands and services, but he's also a huge music fan. 
He's made appearances (back when that was a thing) at various worldwide music festivals and shows, and in the past few years, he's brought his "Shaq's Fun House" portable party to the Super Bowl city. Being in business is cool (and big money), but being in the music industry as a performer is also something he really enjoys. 
In the interview, he kinda went 'third-person" on us: "Shaquille O'Neal is a kid that sees something and wants to be in it. So listen, certain days I wanted to be a CEO. Certain days I wanted to be a rapper. Certain days I wanted to be a DJ." Shaq-history fans know that the big man used to be a DJ in college and kept at it over the years.
This latest appearance for the Sports Illustrated Awards Show (online) is tomorrow night, December 19th. (Again, at the time of this writing. If you miss it, we're sure it'll be recorded and available online with a replay.) Some fans will even get to participate "live" on the party with the The General Insurance's Virtual Fan Wall. You've seen the way the NBA did it during the Bubble season, and the NFL is doing it now… putting fans on TV through their webcams and video connections. Now it's going to be the same for the S.I. program, too. Should be fun!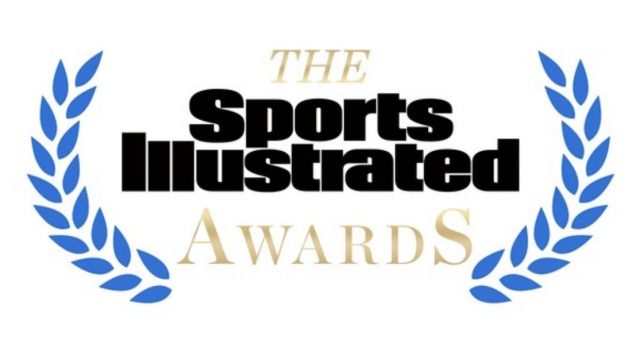 To see the entire Entertainment Tonight video, click here.
As always, Shaq is thinking big: "We want to make this the biggest night in sports. We're gonna have a great show. Just a bunch of great athletes enjoying and cherishing what they do."
"So much of what the fan wall was doing, they were doing during the NBA bubble," he explained. "But listen, I'm gonna be on the fan wall, a lot of famous people on the fan wall, so hopefully you sign up so you can be on the fan wall."
Where can you see the Sports Illustrated Awards program? Grab your phone, your laptop or any other connected gizmo. The show will be streamed across 20 platforms including sportsillustrated.com, Facebook Live, YouTube, Twitch, TikTok, Twitter and more.
As for the show itself, be on the lookout for stars like LeBron James, Naomi Osaka, Patrick Mahomes, Breanna Stewart, Laurent Duvernay-Tardif, and more. The program is being hosted by skier Lindsey Vonn, also Richard Jefferson, Chad "Ochocinco" Johnson, and Cari Champion. Along with Shaq doing his DJ Diesel thing, there will also be performances from Steve Aoki and Gucci Mane.