Not one but TWO Shaq-A-Claus sightings over the past couple of days, just in time for Christmas, of course. One in Tennessee, the other in Georgia. Where will he show up next? 
Thanks to both The Tennessean Newspaper and Fox 4 TV in Atlanta for info on this story. You can see more pics from the Nashville appearance by clicking here. 
First Sighting: Henry County, Georgia
On Wednesday, O'Neal – Shaq-A-Claus, as he prefers to be called on these appearances – showed up at the Henry County Schools Learning and Support Center, southeast of Atlanta. 
Continuing on a two-decade-long tradition, Shaq delivered toys and smiles to young people who might not otherwise get a gift for Christmas. Yet, even in times like these when nothing is "normal," Shaq played on with his holiday tradition. 
In an interview on the scene with Fox 5 Atlanta TV, Shaq talked about his work helping kids and families. "I just like making people happy, making kids smile." 
On Wednesday, Shaq and his team handed out bags and bundles of dolls, games, and gift cards at the Henry County Schools Learning and support center.
"There's an alarming stat that says about 15 million kids will wake up without a single toy, so I always try to do my part in the community where I live at," O'Neal said. "All the kids know Uncle Shaq. I try to come around on Easter, birthdays, every single holiday."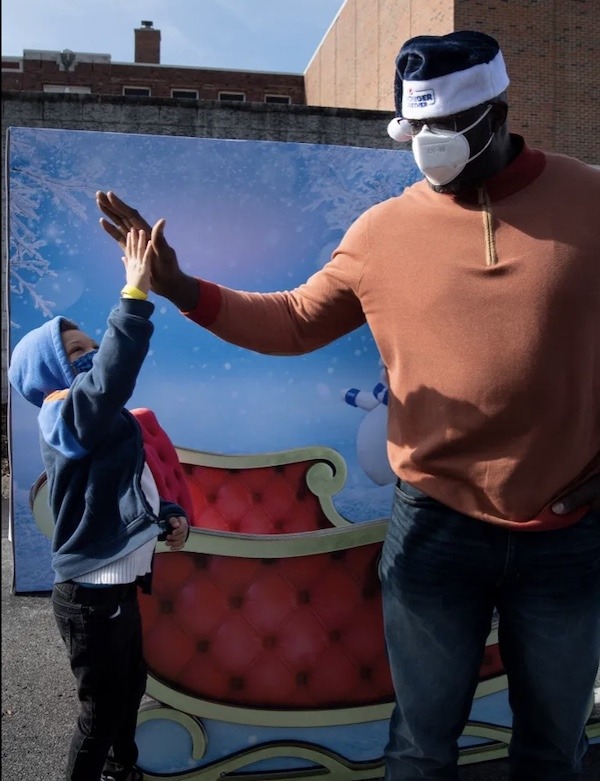 Second Sighting: Nashville, Tennessee 
O'Neal told local reporters that even before he got to be famous through his NBA career, he'd made a promise to himself to work to inspire others to their own greatness as well. 
On Friday, Shaq-A-Claus put in another appearance through his partnership with the Pepsi Stronger Together Foundation. He made an unannounced appearance at the city's Jones Paideia Magnet Elementary School. 
Along with toys and other gifts for the kids, this event included a food bank where families could pick up gifts and a week's worth of groceries, including a Christmas turkey. 
At least one of those families was blown away after seeing Shaq-A-Claus. Saying,  "This is beyond what we imagined. My heart was pounding. I'm still in shock. It just warmed my heart to see him (Shaq) engage with the kids."
Another participant said she's heard there was going to be a "special Santa" at the event, and just assumed it would be someone from the community. Nope! It was another appearance by Shaq-A-Claus himself…spreading holiday cheer and good times wherever he goes. Be on the lookout! 
Check out the Atlanta-area appearance on this local news report from Fox 5: https://www.fox5atlanta.com/news/shaquille-oneal-delivers-holiday-gifts-to-children-in-georgia