The NBA is back! Wow, that was a quick off-season, wasn't it? (Answer: Yes. Yes it was…) With the new season, that also means that TNT's "Inside the NBA" is back, with Shaq, Charles Barkley, Ernie Johnson and Kenny Smith on the socially-distanced set. Good news, all around. 
As of this writing on Wednesday, December 23rd, we're still basking in the glow of Shaq-A-Claus on the Inside set last night. Sure, it was Shaq, but did you see that suit? Something like a Santa Claus outfit, but with a little more style. (See pic below… and for the full video from TNT, click here.)
Of course, Shaq-A-Claus has been doing his Christmas thing in the past week, delivering toys for needy kids in places like suburban Atlanta and Nashville. (See previous posts here on ShaqFu Radio for more info.) Who knows? Maybe he was simply between toy gigs and had to make a quick appearance on TNT…
On Inside the NBA, there was talk about the past bubble-enclosed season and how the Los Angeles Lakers move on from here. (For the record, the Lakers lost their opening night game to the crosstown rival Clippers by a score of 116-109.)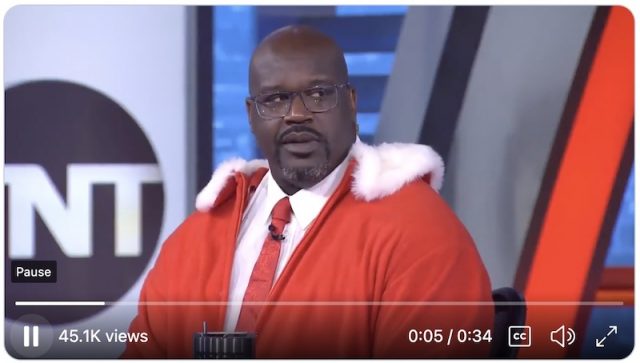 This past season, the Lakers saw the rise of another superstar duo, in the form of LeBron James and Anthony Davis. There was even some comparison to duos of the past… and you know that's gotta mean Shaq and Kobe Bryant. 
On the way to NBA Title number 17, James and Davis had some eye-popping numbers. Davis averaged 27.7 points, 9.7 rebounds and 3.5 assists in the playoffs; James registered 27.6 points, 10.8 rebounds, and 8.8 assists per game.
James and Davis even made the All-NBA First Team together, marking the first set of Lakers teammates to accomplish the feat since O'Neal and Bryant did it in 2004.
Still, Shaq isn't really hearing it when it comes to duo-comparisons. In an interview with ESPN, he said James and Davis will need to build their own legacy:
"There will never be the next [Shaq and Kobe]," O'Neal said. "We don't need them to catch up to us. Kobe and myself were not trying to catch Magic [Johnson] and Kareem [Abdul-Jabbar]. … Kobe and I, [our] legacy will never be duplicated. Or imitated. We don't want to get into the situation where they can be the next us because there will never be a next us. Magic and Kareem can never be us. We could never be Magic and Kareem. And we can never be LeBron and AD."
NBA historians know that the pair of Bryant and O'Neal led the Lakers to a three-peat of NBA Championships between 2000-2002. Now James and Davis have signed on for new contracts with the Lakers, so the two will be playing together for a few more years, at least. 
Can they repeat? Only time and future NBA seasons will tell. Still, repeating Bryant and O'Neal's success would definitely grant the two All-Stars a special place in the franchise's history.