Didn't get exactly what you wanted for Christmas? Gifts under the tree just didn't meet your high standards? Well, good news! There's still time to pick up a super-cool gift for that special someone in your life … or for yourself. Shaq has put one of his cars up for auction and sale: a nicely tricked-out Ferrari F335 Spider. 
Now, by saying "tricked out," we don't mean it's got crazy rims or flaming orange paint across the hood. Nope… this is a gorgeous Italian sports car classic in all its glory… but it did have to be modified slightly to fit O'Neal's oversized personal dimensions. At over seven feet tall, it's doubtful Shaq would have fit into the Ferrari just as it sits, so some changes were made. 
According to an international website operated by the popular magazine and TV show "Top Gear," the car has gone up for auction on the site Bringatrailer.com (cool name, eh?). 
The car is a 1998 model, so it's got a few years on it. But it was certainly pampered during the time the big man owned it. Check out the video below. It's from the MTV "Cribs" series, and shows Shaq walking through his showroom-style garage, showing off his collection of cool rides, including the Ferrari.
Current bid price for the car is around $46,000 USD. Good price or not? Hard to know. It's certainly a collector's edition, and if we could get a pic of us with Shaq and the car, to confirm ownership, all the better. 
For Shaq – to accommodate his larger-than-life size – the car definitely had a few mods. This included completely removing the vehicle's soft top, as well as replacing the factory fuel tank, so that the drivers' seat could be moved back to make room for Shaq-sized legs.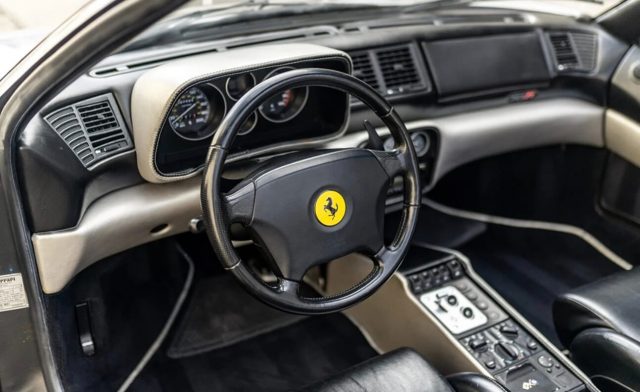 Can't drive a stick? No worries… the car has an automatic transmission mated to a sweet 3.5-liter V8 engine. Other alterations made just for Shaq include aftermarket 'Superman' bucket seats with harness-style seatbelts. There's a custom sound system (of course!), and 19-inch Giovanni wheels wrapped in Pirelli P Zero tires. The color scheme is a special combination of silver and black, which is matched by the leather trim inside. 
So if Santa left you wanting more, this might be a good D.I.Y. gift. The taller members of the ShaqFu Radio blog newsroom really like the idea of a super sports car that's built for larger people.