With the new NBA season tipping off, teams are making sure their stars – and future stars – are getting the contracts they need to stay in place. Recently, that included the Utah Jazz signing a huge deal with center Rudy Gobert. 
Gobert – who plays for the French national team in the Olympics and other international basketball events – signed on for what's called a "supermax extension." And yes, it's as big as the name implies, a whopping $200 million dollars. Nice money, for sure. But when asked about the giant-sized payday for Gobert, Shaq was not exactly on board. 
Thanks to our friends at Thesportsrush.com for info on this story. Seems that during the offseason, Gobert had contract talks with the Jazz front office, and the "supermax" idea was kicked around. Gobert was technically eligible for a supermax extension, and his agent pushed hard for it. Still, the Jazz balked at the huge pile of cash. 
But, no matter what name you put on the contract – supermax or not – Gobert did walk away with a major deal… about the same size as the "supermax" deal given Russell Westbrook got at Oklahoma City. The deal certainly locks Gobert in with the Jazz, but also will probably make it hard for the team to sign other big-money free agents.
As for Lakers legend Shaquille O'Neal, let's just say he knows a thing or two about big-money NBA contract negotiations. When he left Orlando, he inked a 7-year, $121 million contract with the Lakers back in 1996.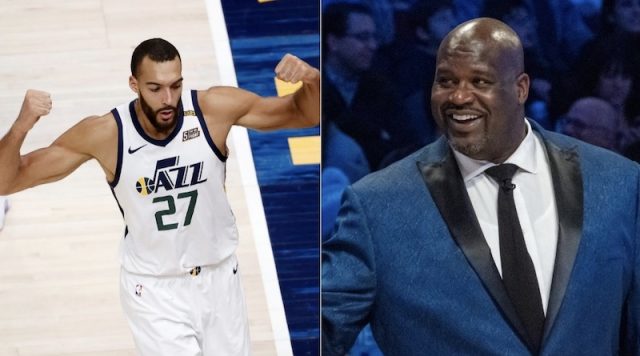 On the All Things Covered podcast, Shaquille O'Neal definitely made his opinion of the Gobert deal known to listeners: "I'm not gonna hate, but this should be an inspiration to all the little kids out there. You average 11 points in the NBA, you can get 200 million."
Shaq continued: "This is a dumb take. Gobert isn't on the Jazz for his offense. He is extremely dominant on the defensive end, that is what makes him elite. He is one of the top centers in the league. The Jazz are very vulnerable without him. You will see. 2-dpoy @rudygobert27" @shaq 
Shaq may be a little off with his numbers. Thesportsrush.com says that over the past 3 seasons, Gobert has averaged better than 15 points and 12 rebounds while playing DPOY-caliber defense. (Defensive Player of the Year…) True, he has shortcomings on offense, and he even gets Hack-a-Shaqed a lot.
But the Jazz had little to no chance of signing anyone better as a free agent. Only time will tell if the Jazz made a good deal or not for the French giant.