The Battle of Brooklyn continues… James Harden and his "asked-for" trade to the Nets (putting it mildly) vs. Shaquille O'Neal and Charles Barkley. As for Shaq, he doubled-down on his skewering of Harden for making the move on a recent edition of Inside the NBA. 
Harden's move to Brooklyn does create an interesting, star-studded lineup, featuring The Beard, Kyrie Irving and KD – Kevin Durant. Will it be enough for a deep playoff run? That remains to be seen. 
As for the Inside the NBA crew, Shaq and Sir Charles have made their opinions clear right from the start. Shaq remains critical of Harden's recent seasons in Houston… especially his sub-par performances in the postseason. 
In his latest comments, O'Neal said Harden had made some big demands of the Rockets front office and got what he wanted, but then didn't deliver the goods himself.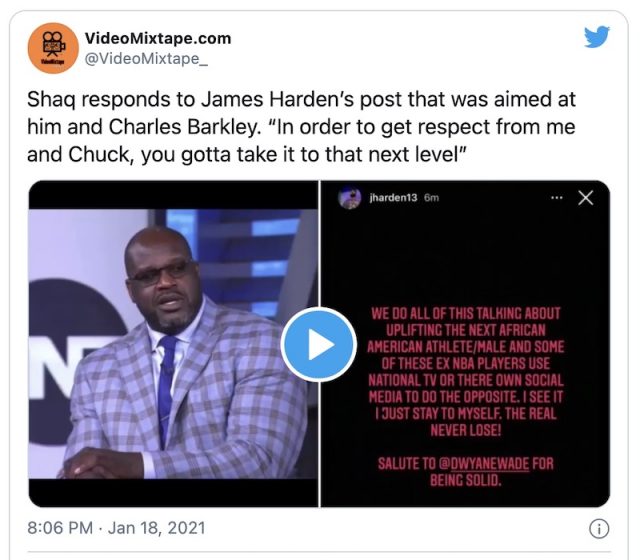 As for Sir Charles… he went even further, calling Harden and Kyrie selfish superstars. BTW, we're checking the record books to see how often Charles and Shaq are on the same side of an issue. We're guessing it's not very often! 
As for Harden, he's done some responding… on Instagram. Shaq and Charles? Not impressed. O'Neal simply says James Harden has to do more. His exact words were that Harden "has to take it to that next level" to get his and Barkley's respect.
Harden has been playing well in Brooklyn. In fact, he's now the first player in NBA history to score more than 30 points and have more than 10 assists in each of his first 2 games with a new team. Will it hold up? We'll wait and see.