As if he wasn't busy enough… Shaq has a new job and a cool new addition to his resume. Now, O'Neal won't be giving up his "day job" (really a night job) with the rest of the crew at TNT and "Inside the NBA." That one is pretty much locked in. But this new gig? Very exciting! He's been hired by one of the local sheriff's departments in the suburbs of Atlanta!  
The man they call The Big Aristotle (he's got a doctorate degree, in case you didn't know), is now also going to be  The Big Community Relations Director for the Henry County (Georgia) Sheriff's Department! 
Thanks to the folks at TMZ and local Atlanta news outlets for info on this very cool story. A representative of the Henry County Sheriff's Office confirmed to the Atlanta Journal-Constitution newspaper this week that yes indeed, the NBA legend will be starting the job ASAP.
According to sheriff's spokesman Eric Jackson, the big idea in bringing on the big man is to make big moves in bringing the community together in bigger, better ways (see what we did there?)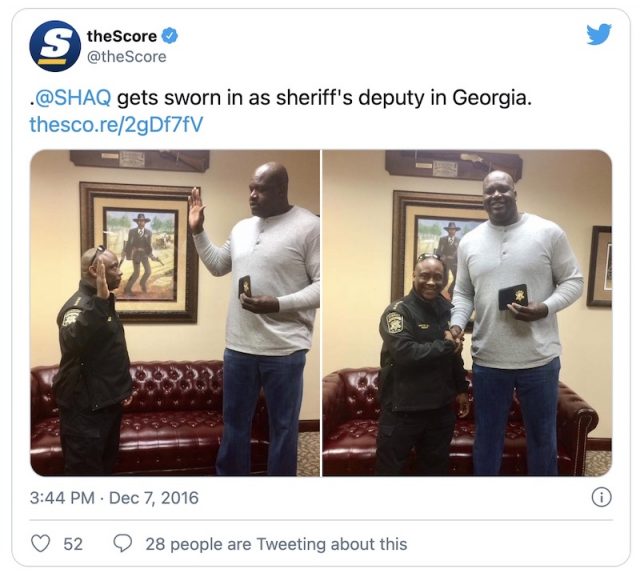 Jackson told the Atlanta Journal Constitution newspaper, "As a part of Sheriff [Reginald] Scandrett's strategic plan, bridging the gap between the community and law enforcement is paramount. Coupled with Dr. O'Neal's philanthropy, Scandrett and Shaq have a specific plan to begin uniting the Henry County community."
So, another cool new gig for Shaq. O'Neal historians will know that this does not really come as a surprise. Shaq has always had a liking for law enforcement. He's been a sworn deputy for several different sheriff's offices and police departments over the years, including in Florida. 
We're not sure if he's just kidding around (or not!) but Shaq had said at one time that would like to (someday) get the job of Henry County Sheriff. Would he even have the time ?Maybe that's after his sometime-in-the-future retirement from the TV sports commentator gig. 
Stay tuned for more info. The sheriff's office is holding a news conference to go more in-depth on Shaq's role in the department later today (as of this writing).