He's at it again… Shaq bringing a big, BIG Super Bowl Party to the host city. This year that means Tampa, Florida… coming up this weekend! It's "Mercari Presents The Shaq Bowl." And like most other big events this year, the Shaq Bowl is going to be streamed online. Good news for anyone who would normally have wanted to be there in person. 
This is just the latest edition of the traveling show that usually goes by the name of Shaq's Fun House" – a show he's put on all over the world, at various music and cultural festivals. 
This time, the event features a real live custom-built mini-stadium, not too far away from Tampa's Raymond James Stadium, the location for this year's final game of the NFL season. For those who haven't been paying attention, the game will pit the Kansas City Chiefs against the hometown Tampa Bay Buccaneers… the first time in the history of the Super Bowl that a home team has played in the final game. 
This year, The Shaq Bowl will have athletes, celebrities and artists assigned to two teams competing in challenges to win the first-ever Shaq Bowl trophy. All the festivities kick off (pun intended) at 3 p.m. Sunday / Game Day.
The event will stream for free on Facebook, on the event's own website (ShaqBowl.com) and over 20 additional platforms including LiveXLive, YouTube, Twitch, TikTok, and Twitter.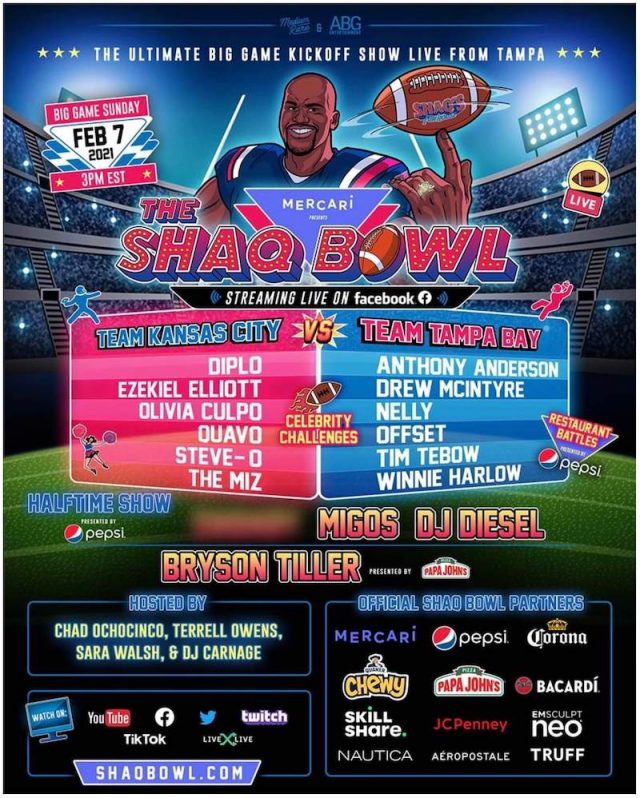 In a press release, Shaq said: "With no in-person events this year, I teamed up with Mercari to create The Shaq Bowl and connect Americans on the biggest day for sports of the year. Featuring a ton of my celebrity friends competing in viral challenges, plus superstar musical artists all live from Tampa, prepare for the most fun and action-packed Big Game Sunday show ever."
O'Neal will be among the few stars on the ground in Tampa this weekend as the ongoing COVID-19 pandemic has dampened the typically bustling Super Bowl events scene. Hosted by former NFL stars Terrell Owens and Chad "Ochocinco" Johnson along with Sarah Walsh, the event will even have its own mid-game entertainment courtesy of The Shaq Bowl Halftime Show Presented by Pepsi Stronger Together. It will feature a performance by Migos and DJ Diesel (Shaq's alter ego), with a surprise A-list guest.
As far as the competition portion, suiting up for Team Kansas City will be Diplo, Ezekiel Elliott, Olivia Culpo, Quavo, Steve-O and The Miz. Competing on behalf of Team Tampa Bay will be Anthony Anderson, Drew McIntyre, Nelly, Offset, Tim Tebow, and Winnie Harlow. Also featured: A race between O'Neal and artist Bryson Tiller in Papa John's Epic Stuffed Chair, billed as "the ultimate sports-watching seat to enjoy the new Epic Stuffed Crust."
Pepsi Stronger Together is partnering with the National Restaurant Association Educational Foundation (NRAEF) to donate $100,000 in grants to help struggling restaurants. Pepsi will also rollout out "Restaurant Battles," a showcase for four local Tampa restaurants that will see them compete for a $10,000 grant. 
Sounds like a great way to get pumped up for the Big Game!