What a surprise! We here at the ShaqFu Radio blog would have guessed it would be another big man, for sure, but not the case. Shaq has revealed who his current favorite NBA player… and like we said, it's a big man. Not even close…
No, it's Golden State Warriors superstar Steph Curry! Talking to "NBC Sports Bayarea" (and tip 'o the hat to them for the story), Shaq has been saying plenty of good things about Curry, even after last year's disappointing season. 
Talking to NBC and also on his usual outlet, the TNT "Inside the NBA" halftime program, Shaq used that f-word ("favorite") and immediately explained why.
"I don't know if he knows this, but he's my favorite player to watch right now. When he first came in, he'd throw up that stuff and you'd be like, 'That's luck.' But two, three championships he's still doin' it. So that means he's consistent. He's really a great player. I love watching him. If I was a fan and I had to pay to watch somebody–of course it's LeBron and those guys–but I'd definitely go to Golden State and watch him play."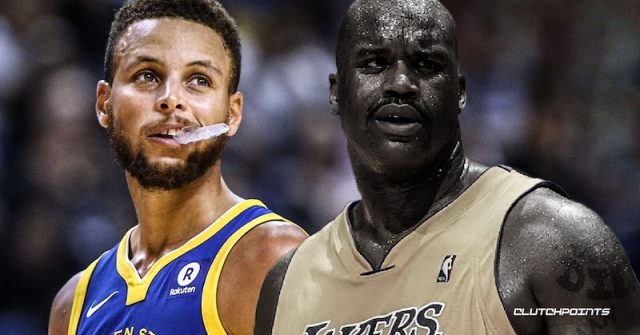 Obviously pretty high praise coming from a former superstar and multiple NBA Champ. Over almost two decades in the Association, O'Neal is certainly one of the all-time greats of the game. He won four NBA titles, including three with the Los Angeles Lakers and one with the Miami Heat. Now on TV with TNT and a host of other commercial appearances and business dealings, he's still one of the most recognizable faces and voices in the game. 
Although the sport has changed a LOT since his playing days, that hasn't stopped O'Neal from appreciating Curry's greatness. "See, a lot of times when I try to compare the old era to the new era, people say I'm hating. First of all, I'm too great to hate. Second of all, I've never seen anything like Steph, and that's why he's my favorite player."
Of course we all know how great the dynamic duo of Shaq and Kobe were in Los Angeles. Kinda makes you wonder what the pairing of Shaq and Steph would have looked like?