BREAKING NEWS. (Sometimes the writers at the ShaqFu Radio blog like to pretend they're on some fancy cable-TV news network… This is one of those times.) 
As of this writing, cleanup efforts are underway at one of the Krispy Kreme Donut stores owned by Shaq in the Atlanta area. The building suffered heavy damage when fire broke out in the very early morning hours of Wednesday of this week (as of this writing). 
In Shaq's business empire, this is one of several Krispy Kreme locations operated by the big man, but this particular store was special in the Atlanta area.  Shaq bought this store, located on Ponce de Leon Avenue just north of downtown Atlanta in 2016 and not long after became a spokesman for the doughnut franchise. 
This location was known as the Midtown Krispy Kreme, and it opened way back in 1965. Company officials say it was one of the very first to open outside the company's home cities of Winston-Salem, North Carolina and Nashville, Tennessee. 
The store's famous glowing red sign has been a landmark in Midtown Atlanta for decades. There's a story that this particular supplied 150 dozen doughnuts to area churches back in 1968 to feed thousands of mourners who participated in the funeral procession for Dr. Martin Luther King Jr.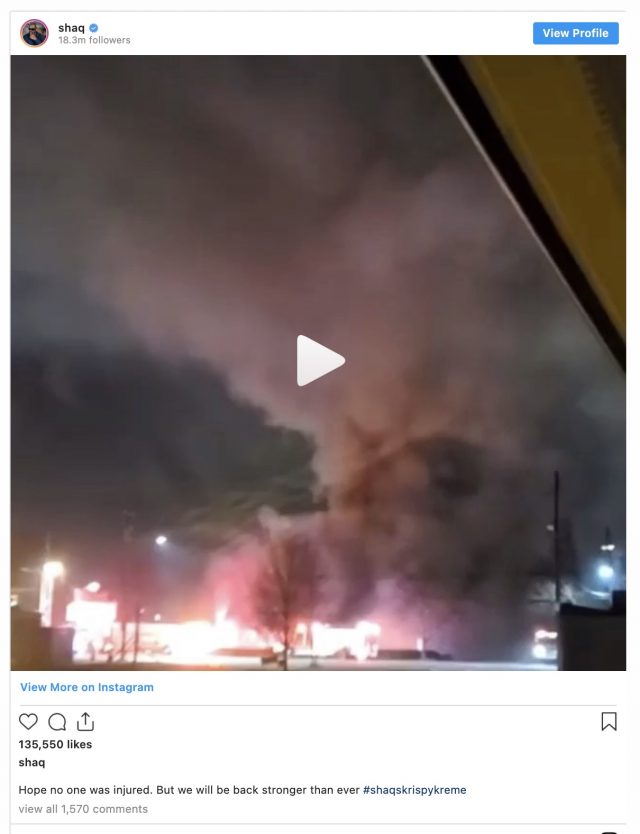 Local reporters indicate there were two workers inside the store when the fire broke out. They were able to safely escape and called 911 at about 12:45 a.m. on Wednesday. 
About 35 firefighters battled the fire into the early morning hours. Officials say they were able to save much of the front of the building, but the interior operations will probably be a complete loss. 
As for the owner, Shaq posted video of the fire on his Instagram account, saying "Hope no one was injured. But we will be back stronger than ever." For that video and more details, click here.