For regular readers of the ShaqFu Radio blog and Shaq-history professors, you already know that the Big Man is a Big Fan of the martial arts and related sports, like MMA fights. Now O'Neal seems ready to put some money behind his interest as well. 
O'Neal's people say Shaq is prepping to become an investor in the brand-new Bare Knuckle Fighting Championship fight promoting company. While the Superbowl was being played in Tampa last weekend, there was also a BKFC event called "Knucklmania" in Florida, and it was a major hit with fans and the TV audience. 
O'Neal was right there – sitting ringside for one of the big fights of the night. He was the presenter for BKFC bantamweight champ Dat Nguyen during the event's pay-per-view broadcast… an event that drew record numbers for the two-year-old company.
BKFC founder and CEO David Feldman told a sports interview program, "We're working out the details right now. He's very interested. [Shaq] loves the product. [He] loves what we're doing. I think he adds tons to value to us. We're dealing with his team now and tying all the loose ends, but I think it's gonna be a done deal. Everybody in the world knows who Shaq is. He'll be a great addition to our family."
Along with the PPV audience, this KnuckleMania night was the first combat sports event in the US to have live fans in the house. Just like the NFL at the Superbowl, the BKFC put some stringent health protocols in place for anyone who wanted to attend in person.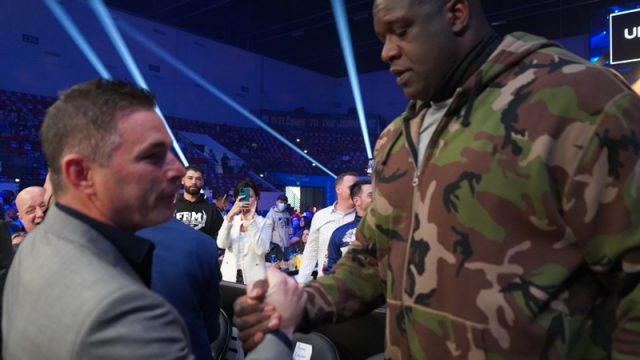 Numbers from the PPV and live event were impressive, and are getting attention from advertisers and promoters. The event will probably show around 100,000 viewers in the U.S. alone… and a huge extra audience around the world… more than ten million viewers (or more) in total. 
As for Shaq, he's called BKFC the "future of fighting" and called its fighters "the toughest athletes in the world." Bareknuckle fighters are exactly that… no boxing gloves are used in the bouts.  
The partnership with Shaq almost didn't happen. The CEO of BKFC – at first – didn't believe it was actually Shaq getting in touch. "He reached out and said, 'I love what you guys are doing…' Then I message back, 'Is this really Shaq?' Then he put a video up and said, 'Who else would it be?' And it was pretty cool," Feldman recalled.
The BKFC is already expanding around the world. A big event to be called "Bare Knuckle Kingdom 1" is set for Thailand on March 5. Other events in other far-flung locations are also in the cards.
Groups from Africa, Japan, Russia, and Brazil have shown interest in hosting BKFC events. Even fighters from boxing and MMA have sent feelers to join their organization. 
Looks like Shaq is in on the ground floor of a big new "thing." Can't wait to see where it goes.