Some schools are reopening around the country, yet lots more remain closed during Covid times. That means lots of parents are still dealing with home-schooling kids, and trying to balance school and other priorities. Now, Shaq is the latest to weigh in on making the work-from-home, school-from-home thing work. 
O'Neal appeared on a recent edition of the PEOPLE (magazine) Every Day podcast, talking about parenting during the pandemic… and what he's doing to educate and entertain six kids. There's daughters Taahirah, Amirah and Mearah, and sons Myles, Shareef and Shaqir… a couple of the kids are in college, but the O'Neal house is still the gathering place. 
The former NBA superstar told PEOPLE, "I have six wonderful kids. Not a lot of discipline is needed. Their mothers did wonderful, beautiful jobs of that. So my job is just keeping them in the game, have (having) fun."
Some of that fun included making silly dance videos with his sons. You can check out one of those videos by clicking here. Of course in the O'Neal house, there's always shooting hoops (and other at-home activities) to stay busy.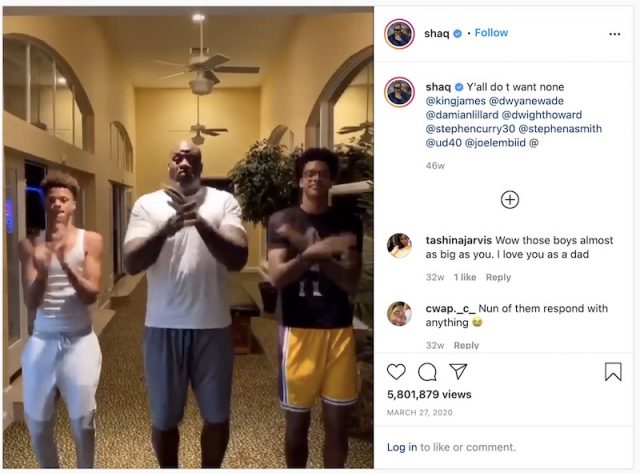 Shaq: "You just have to mix it up as a dad. [You] just can't tell them, 'Go to your room and stay there,' because they'll get miserable. So you just have to have fun with them an hour, rest, have fun with them an hour, rest. Then you also got to give them a space to let them do their own thing."
Of course for O'Neal and family, there's going to be physical activity and basketball. His coaching and mentoring are a part of his parenting, too. "Fortunately we have a gym in the house, so I work out with them a lot. But they're at that age where you can just tell them what to do and they already know how to do it. When they were young, we said 'fundamentals, this, this, this, that.'"
For more of Shaq's interview with PEOPLE and their new podcast, check out the video and podcast audio here: https://people.com/parents/shaq-offers-parenting-advice-kids-in-quarantine-people-every-day-podcast-exclusive/