For all those ShaqFu Radio blog / hoops history buffs out there, this was indeed an historic week for the big man and his NBA career. Of course Shaq set a lot of records and won a lot of big games. But in all of Shaq-history, there's one stat that has a lonely, single number one in the column. And that "one" happened this week in history. 
Let's face it… over the course of a long and powerful NBA career, O'Neal set a lot of records and raised the bar on many more stats. He was – in no particular order – a league Most Valuable Player, Rookie of the Year, the two-time scoring champion, three-time NBA Finals MVP, four-time world champion and 15-time NBA All-Star. Stellar numbers, for sure. Shaq retired after the 2010-11 season as one of the greatest centers ever to play the game.
Yet on a day this week – 25 years ago! – that O'Neal did something that he accomplished just once in his NBA career. Once! 
That one-time thing? He hit a three-point shot. It happened the night of February 16, 1996. Of course back then Shaq was quite the youngster, playing with the team that made him draft pick Number One, the Orlando Magic. The Magic were at 35-14 that night for a home-game against the Milwaukee Bucks. The simple story: Orlando controlled the contest pretty much from start to finish, ending the game with a 121-91 victory. But it's what happened at the end of the first quarter that will go down in Shaq and NBA history.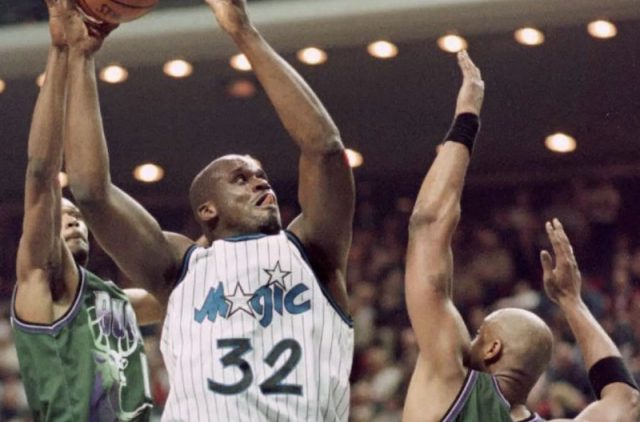 Photo credit: TONY RANZE/AFP via Getty Images
With Orlando leading 37-25 and just two seconds left on the clock in that first quarter, O'Neal took in a long pass from Magic forward Joe Wolf about five feet beyond the three-point arc. After using the dribble to control the pass, O'Neal hoisted it toward the goal with one hand. The ball banked off the glass and through the net as the buzzer sounded. Pandemonium ensued! 
It was a big night for O'Neal personally and for the Magic. His big three pointer was part of the team's better than 60% shooting from the field and 7-for-13 from deep. Three different Magic players booked double-doubles.
As he often did, O'Neal finished with a game-high scoring total: 31 points and 10 rebounds. Guard Anfernee Hardaway tallied 24 points and 10 assists. Forward Horace Grant added 10 points and a game-high 11 rebounds.
Of course the big man did not turn into a big fan of the three-pointer after making that historic one. Over the course of a 19-year NBA career, O'Neal attempted just 22 three-pointers… and as you now know, he made just one. It came during his early days with the Orlando Magic, this week, 25 years ago. History is so cool! 
For more information and the video – of course! – click here: 25-year Orlandoversary: Shaq hits only career 3-pointer – Orlando Pinstriped Post