You've probably seen the commercials… Shaquille O'Neal and Tony the Tiger, pitching Frosted Flakes cereal, and arguing over who has the deeper voice. Awesome television, for sure. So… who knew these two mega-stars of popular media were at work behind the scenes, cooking up (literally) a brand-new version of the ever-popular Frosted Flakes cereal? 
In a major breakfast-food announcement this week, Kellogg's – the makers of Frosted Flakes and many other morning favorites – says it's ready to roll out a hoops-themed cereal that will feature – all in the same box – the regular Frosted Flakes ("They're Grreat!) and mini cinnamon-dusted basketballs. Well, not really basketballs, but the cereal version… you get the idea! 
This is history-making on several fronts. For the first time in Frosted Flakes history (and it's a LONG history), Tony the Tiger will NOT be the face smiling back at you across the breakfast table in the morning. Yes, the Big Man himself – Shaq – will be right there on the front of the box. Keep your eyes on your local supermarket shelves for the official rollout (or should we say "tip-off") of Frosted Flakes With Crispy Cinnamon Basketballs.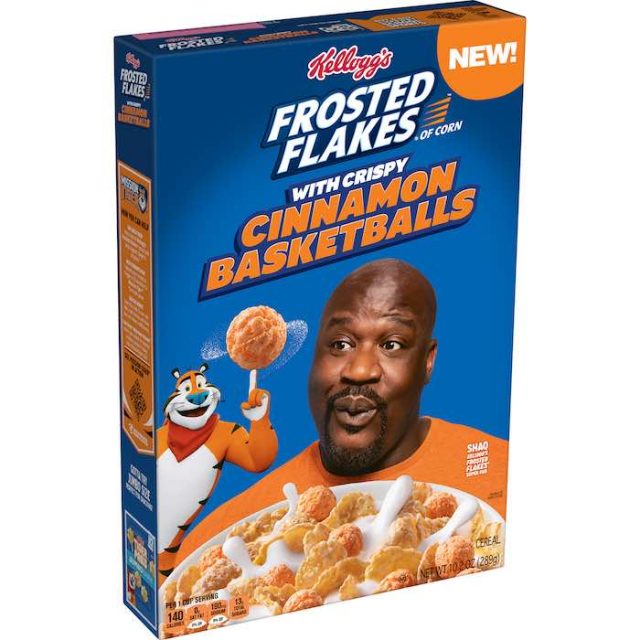 A press release from the company says the Frosted Flakes / basketball version was designed as part of the brand's commitment to Mission Tiger. We've written about that program in the past here on the ShaqFu Radio blog. You may have also seen Tony himself talking about it on various TV commercials. The program has pledged to help one million kids across the USA gain better access to sports… and do it by the end of 2021. 
The program is off to a good start. As of this writing in mid-February, Mission Tiger has already helped to provide donations of cash and sports equipment to help about a half million kids who say sports programs cut at their schools, mostly due to Covid-19 budget cuts. 
For every box of Frosted Flakes sold, Kellogg's will donate $2 to the larger "DonorsChoose" program… all in support of Mission Tiger. To help your cereal purchase contribute to Missin Tiger, all you have to do is upload a copy of a receipt for your cereal purchase, within 30 days of the purchase. Make sure you do it before the end of the year, too.
Due to the slowdown of virtually all activities of regular life, in-person donations have been put on hold. Still, DonorsChoose is still working closely with teachers and coaches to complete funded sports projects for kids nationwide. The program has already received thanks from teachers and kids nationwide. 
As for those history-making Frosted Flakes, they'll be on store shelves starting in April, so keep your eyes open for them and pick up a box. We're just wondering what Tony the Tiger thinks of sharing such a big spotlight with such another big star!