Readers of the ShaqFu Radio blog and viewers of the big man on TNT's "Inside the NBA" show know O'Neal is definitely not one to pull punches or stay silent when he's got something to say. Recent weeks have seen Shaq telling some current NBA big men how they do – or do not – measure up to the greats of the past, including himself. 
Now it hasn't all been negative and / or critical. In a recent interview, Shaq talked about how – during his playing days – there were some players he would "allow" to take shots over or around him, for a very interesting and specific reason.
During his time in The Association, O'Neal was one of the most-dominant players ever to put on a uni. He was part of winning four NBA Championships, and he personally was named to 15 All-Star Games during his 19-year NBA career.
Now, O'Neal is showing off that dominance… as one of the analysts for "Inside the NBA." Any viewer can tell you… Shaq does not hesitate to be brutally honest on broadcasts.
For example, there was a recent exchange with Utah Jazz star Donovan Mitchell. Shaq made it clear: "You are one of my favorite players but you don't have what it takes to get to the next level… I said it on purpose because I wanted you to hear it." Call it tough love, call it inspirational… definitely Shaq being Shaq. 
But like we said, Shaq also had some favorites, even during his playing days. You might think the big man was all about completely shutting down the other side, but not always. O'Neal has admitted that there were four players he faced that he'd "let shoot" on purpose because of how much he liked them.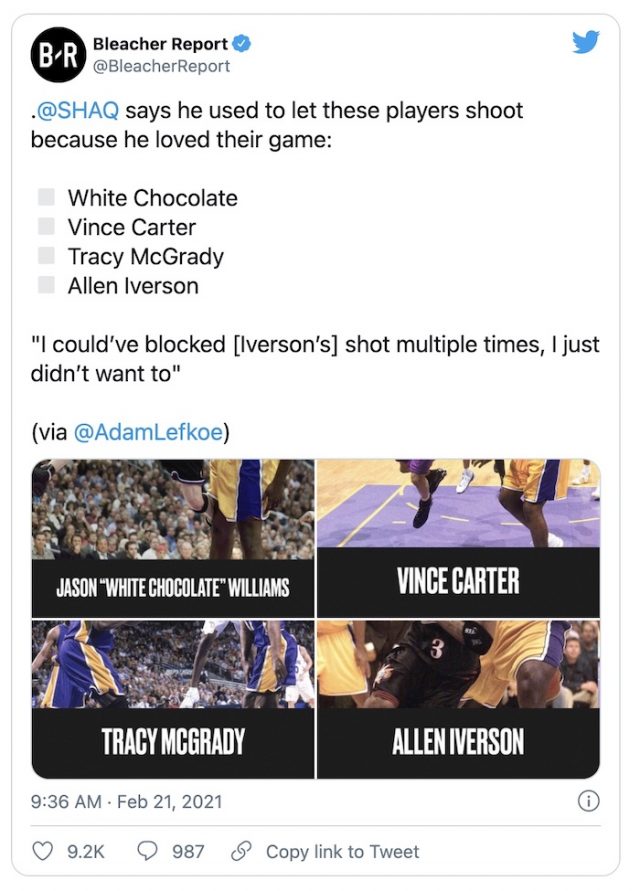 "I could've blocked [Iverson's] shot multiple times, I just didn't want to," Shaq said. On a recent podcast, he said, "I have a confession, and D-Wade probably already knows this. It was four guys that when we played them, I was such a fan, I let them do what they wanted to do. White Chocolate, Vince Carter, AI, and Tracy McGrady. Every time we played AI, I liked seeing him crossing over. I could've blocked his shot multiple times, I just didn't want to."
Nice! A bit of respect from the big man to other NBA greats. As our friends at FadeAwayWorld.com wrote: Iverson never won a ring, but he was a competitor at every level, and he showed the league that a team built around a smaller guard could succeed. Allen Iverson had a game that was mesmerizing to the eye, but he also played hard as O'Neal said: that is the other thing that made him so entertaining to watch.
Allen Iverson is somebody who had one of the best crossovers of all-time. His playstyle was beautiful, and even Shaquille O'Neal himself couldn't help but admire the guard.
None of those players beat O'Neal when it mattered, but it's still a pretty surprising admission from the legendary big man.