Real prediction, or a proud father? Could be both… Shaquille O'Neal has put his alma mater LSU into his Final Four bracket – and says the Tigers will win it all this year, with a contribution from his son Shareef on the squad.
Earlier this week, Shaq unveiled his 2021 NCAA Men's National Championship bracket, and indeed, the LSU Tigers came out on top. Just for the record, Shaq's Final Four stack up like this: Gonzaga and Illinois – both current number one seeds, along with number five seed Villanova, and number eight seed, the LSU Tigers. 
Shaq's ladder to the Championship has the Tigers of LSU beating Illinois in the national title game. Far-fetched? Maybe. Like we said, with his son Shareef on the team, Shaq is of course playing favorites. 
At a middle-of-the-pack placement with an eighth seed, Las Vegas oddsmakers put the Tigers at 50-to-one odds to win it all this year. The Big Dance is underway (as of the time of this writing) and LSU's first game of the tournament is Saturday against Saint Bonaventure. Depending on when you read this post, that game may already be over and in the books. How's life in the future?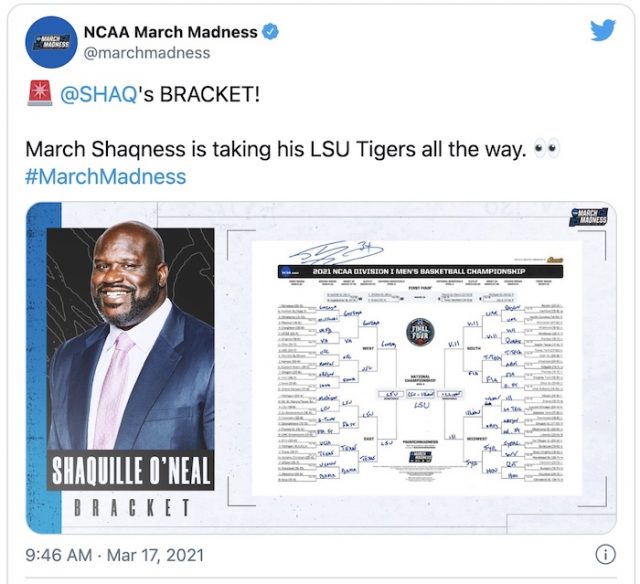 LSU enters the tournament with an overall record this year of 18-9 overall. In the last regular-season game, the Tigers got beat by Alabama, 80-79 in the Southeastern Conference Tournament championship game. 
As for Shareef O'Neal, he's currently a sophomore forward on the LSU men's basketball team. He missed part of the season with a foot injury. His father Shaq played his college career at LSU between 1989-92. That included being named the Associated Press Player of the Year in 1991, and being chosen as the Southeastern Conference Player of the Year in 1991 and 1992. 
LSU did play in the Mens' NCAA Tournament in each of Shaquille O'Neal's three seasons, but with only limited success. With Shaq, the Tigers got to the second round in 1990 and 1992, and were ousted in the first round in 1991. During Shaq's time at LSU, the Tigers best-ever tournament seeding was at Number 5 seed in 1990.
How will the Tigers fare this season? Stay tuned! For more pics and info on the story, visit our friends at USA TODAY here: Shaq picks LSU basketball to win 2021 March Madness tournament (usatoday.com)