There's been a ton of coverage of Shaq's big pro wrestling debut on AEW … lots of it right here on the ShaqFu Radio blog. There are millions of wrestling fans out there, and obviously O'Neal is one of them. A few questions remain: Was this Shaq's one and only time in the ring with AEW? Is he looking to get back, and maybe even avenge his match with Cody Rhodes? Are even more, bigger, more eye-popping Shaq-tastic events in the future? 
Well, it seems Shaq is indeed looking ahead to more action inside the squared circle (a cool old-school boxing term… look it up!). How do we know? Well, when the Big Man had the opportunity to talk to one of the biggest names in the business (wrestling, that is), he went right to asking for advice on how to improve his game.
Recently, former wrestling superstar John Cena appeared on TNT's NBA post-game show. He was scheduled to talk about his new TNT show "Wipeout," and while he got in a few good plugs, he also got some wrestling questions from Shaq.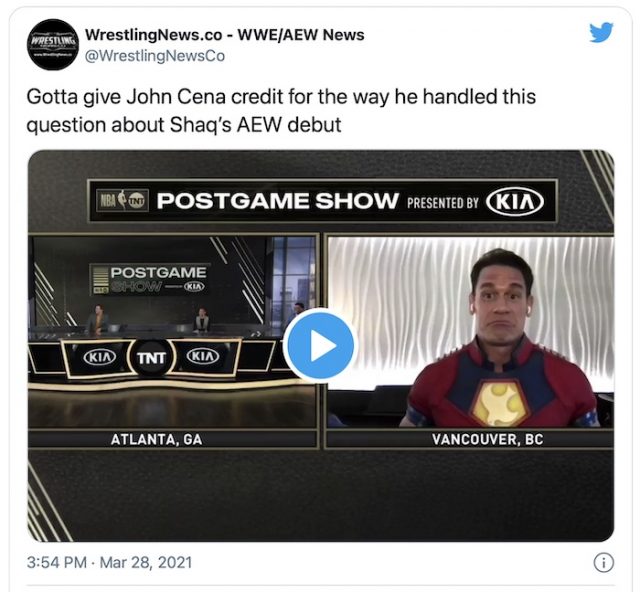 Now, Cena was in a bit of a tight spot. He was a star (and still appears on the occasional broadcast) for rival wrestling league WWE. He's still loyal to WWE, so when he was asked if he's seen Shaq's appearance on AEW, he said he hadn't seen it, and he gently avoided talking about AEW directly, 
Cena said he was hard at work on the Wipeout show in Canada, and had "heard" that Shaq made his in-ring debut, but didn't get into a lot of detail. Still, he did ask Shaq how he felt about being part of such a big show.
Shaq said that he was caught off guard and was slammed by Cody Rhodes into a table. Shaq also talked about being a wrestling fan while growing up. Cena took time had good words for Shaq, saying he was part of the "Mount Rushmore of Sports Entertainment."
He added, "It's a shame that you were born so large and so gifted on the basketball court because you could have been something in WWE." A clip from Shaq's match in AEW was played during this segment so if Cena truly had not seen it before then this would have been his first time seeing Shaq take the table bump. Click here to see the video from TNT's Inside the NBA program with Cena's interview. Great stuff. 
If you haven't seen it yet, Cena made quite the visual statement on TNT, wearing his superhero costume from a new movie he's in, "Suicide Squad." Cena plays the character "Peacemaker" on the upcoming HBO Max production. 
When Shaq asked about his performance, Cena turned the tables (wrestling term?) and asked how he thought it went. 
Shaq responded: "Well, I just wanted to, you know, represent you guys. Right here, I'm giving a shoutout back to Brodie Lee, powerslam, wanted to make it look good. Cause listen, growing up, I watched you guys, Junkyard Dog, Andre the Giant, Hulk Hogan, I just wanted to represent you guys. Then, he poked me in the eye, caught me off guard, and body slammed me into a table." He added, "I think I did pretty good."
We think he did pretty good too… and we can't wait to see Shaq's next appearance in the AEW ring.