He's not playing for one of the big powerhouse teams, or getting tons of press, but New Orleans Pelicans superstar Zion Williamson is definitely making some waves in the NBA these days. In fact, as of this writing, he's closing in on a record currently held by none other than our man Shaquille O'Neal.
What is that record, you ask? We're talking about scoring 20-plus points in games in a row. Zion had 28 points last night (again, of this writing) against the Boston Celtics, as the Pelicans won the game 115-109. Williamson went 11-of-22 from the floor, with eight rebounds, three assists and four steals. As mentioned, the game marked 24 in a row in which Williamson has put up 20-plus points while shooting 50% or better from the field.
The next game for the Pelicans is against the Orlando Magic (Shaq's first team…the one that drafted him Number One). Should Williamson have a similar performance and score 20 or more, he'll tie Shaq's big-time record. Thanks to ESPN Stats for crunching the numbers on this.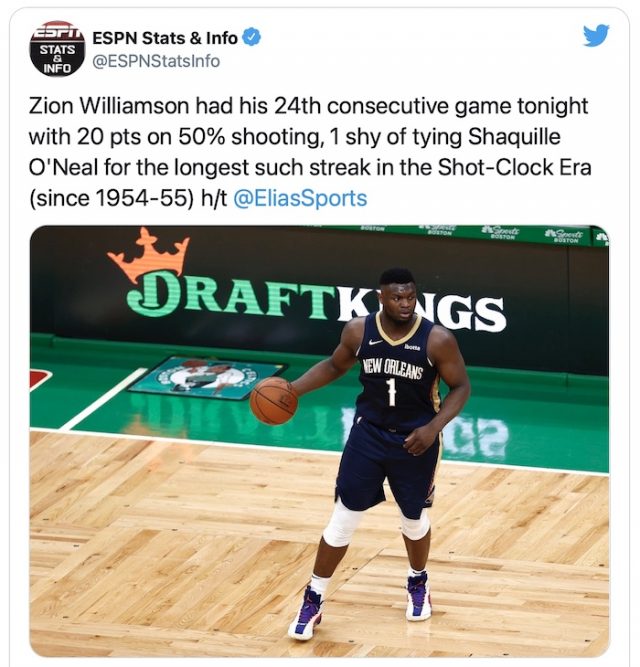 Connections to Shaq are starting to get some headlines. Just recently, Dallas Mavericks head coach Rick Carlisle mentioned Zion and Shaq in the same thought. After watching Williamson and his Pelican teammates beat his Mavs, Carlisle talked about Zion's unique blend of skills, size and talent. Zion had 38 in the game against Dallas. 
Carlisle: "He's an unusual force and obviously a great player … it presents huge challenges for the defense and for officials. He is just creating collisions out there. This is a Shaquille O'Neal-type force of nature with a point guard skill set."
More Shaq connections: Williamson is also the first player since O'Neal (back in the 1995-96 season) to have four straight games of scoring at least 25 points on over 65% shooting.
The Pelicans star is obviously having a big year, even though not a lot of people have noticed (at least not yet). He's averaging 26.4 points on 62.4% shooting, with 7.1 rebounds and 3.5 assists per game. Finding his game? Oh yeah….