Watching the Los Angeles Lakers these past few days has been – lets face it – strange. No LeBron James. The King suffered a very, very rare injury a week ago, and now it appears he'll be sidelines until playoff time. Still, that's not preventing former Lakers superstar Shaquille O'Neal from loving on his former team as playoffs approach.
Talking on a recent podcast episode from Fadeaway World, Shaq made it clear that he's not buying the worry and hand-wringing over the Lakers chances come postseason. If you've checked the West standings, you'll see the Lakers (as of this writing) are currently in the #5 slot, behind the Denver Nuggets and just ahead of Portland.
Still – according to O'Neal – the Lakers still have a few special cards up their collective sleeves, and still have one big advantage in that Western Conference: 
Shaq talking to Nico Martinez on Fadeaway World: "The difference between the Lakers and any other team is that the Lakers don't need home-court advantage… When you got guys like LeBron and AD, they can steal a game on the opponent's floor. Utah and (other top 4) teams need home-court advantage. Lakers do not."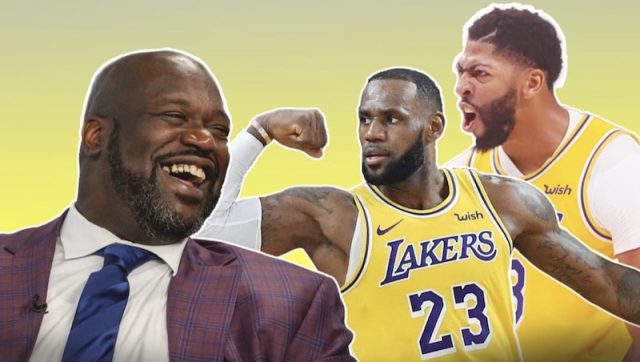 True or not? What do you think? Hard to say, especially after last year's finish in "the bubble" – when none of the teams had any kind of home-floor advantage. (BTW: Hats still very much off to the NBA for making the bubble think work so well. For those of us watching on TV, it was almost… almost just like regular season games and playoffs.) 
Sure, the Lakers have been struggling of late, learning to play without LeBron. This has certainly led to the defending champs' slipping down in the standings. For O'Neal though, he firmly believes that the Lakers do not need to be a Top 4 seed in the conference for them to be able to dominate in the playoffs. 
LeBron will be back in time for post-season play, and Shaq firmly believes that The King, Anthony Davis and the rest of the team has what it takes to win it all despite not having home-court advantage during the postseason.
The playoffs are coming soon… no doubt there will be upsets and scary close calls. Can't wait to see it all play out. Stay tuned to ShaqFu Radio for more…