You may have heard of this before: In Las Vegas, many popular musical artists and acts come and stay for a time at one particular hotel / casino, giving fans an extended chance to see their favorites live in concert. It's called a "residency," and it started when Caesar's Palace brought singer Celine Dione on board for the first "residency" years ago. It proved so popular that other hotels started doing it with lots of other acts.
Now our favorite former NBA superstar and hip-hop record-spinner, DJ Diesel, is the latest to become a "resident" at a popular Vegas venue. Of course Diesel's real name is Shaquille O'Neal, and it's gonna be amazing to see what he does to turn up the volume on the Vegas nightlife.
Shaq is signing on to be a resident DJ for Wynn Nightlife, bringing his act to several of the resort's properties. Coming later this summer, Shaq / DJ Diesel will be playing at both Wynn Resorts XS Nightclub and the Encore Beach club.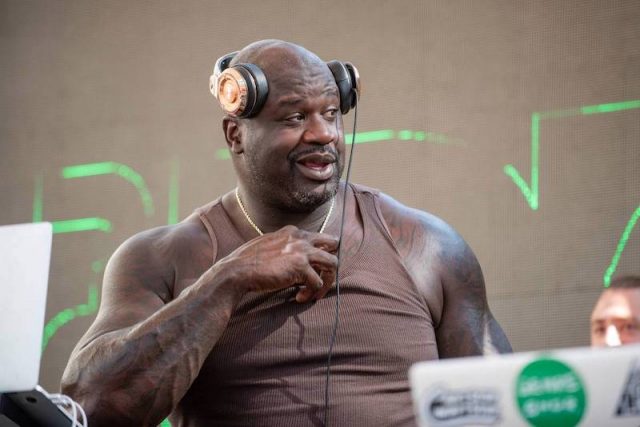 Previously, Wynn has had the likes of The Chainsmokers, Kygo, David Guetta, Diplo and Major Lazer as resident DJ headliners. Now it's time for the biggest DJ ever! 
This isn't the first time the big man has been a headliner at a popular Vegas day and night club hotspot. He's already appeared at Alexxa at Paris Las Vegas (in which he is a business partner), the late Rehab at Hard Rock Hotel (now being rehabbed, get it?), Omnia Nightclub at Caesars Palace, and Encore Beach Club.
If you've seen his "Shaq Life" TV series on TNT in the past year, you may have caught some video of his headliner appearance at a few Wynn resorts pool parties.
Still for the big man, this is definitely not adding to his bottom line, but he's loving it anyway. On Shaq Life, the big man said, "When it comes to this DJ thing, I'm in the hole. Let's say I get $20,000 a show. You know how much a plane costs? $50,000. Now I'm in the hole $30,000. So I ain't doing it for money. It's my adrenaline boost."
Money-maker or not, we're glad to see the big man getting out and mixing it up with his music fans. Stay tuned to ShaqFu Radio for more upcoming announcements, and of course for your favorite Shaq-style tracks.