Regular readers of the ShaqFu Radio blog will know that the big man is not only big in the sports world – he's plenty big in the business arena as well. This week, O'Neal announced yet another new deal that will grow his business empire… in the bottled water space.
As reported by Bloomberg business news, the NBA Hall of Famer will be joining Alkaline Water Company as an equity partner and member of the board of advisers. 
The bottled water business is definitely crowded with players both major and minor, and is super-competitive. The company is obviously hoping bringing on a star of Shaq's magnitude will help them (pardon the pun) make a splash. 
Under the new deal, Shaq will (over time) be getting around seven million shares of the company's common stock. That'll add up to about a 5% to 6% percent ownership stake in the company. Company Chairman Aaron Keay told Bloomberg News in an interview that the move will eventually make O'Neal the largest shareholder in the company.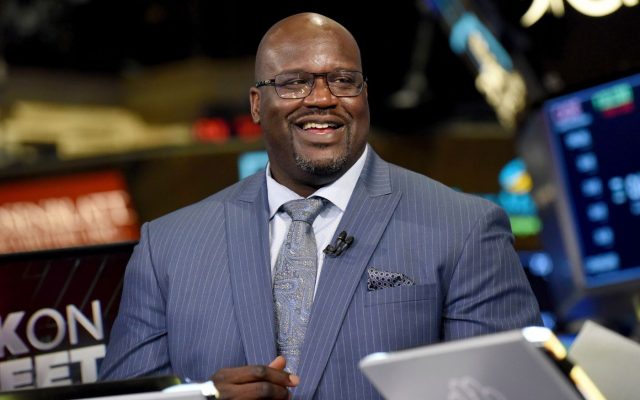 The news must have sounded good to investors. Share prices were up about 9% immediately following the big announcement.
As we know, Shaq uses his oversized influence and persona to help market the products and brands he supports. His new favorite water goes by the brand name Alkaline88. The company boasts a "perfectly balanced" pH level of 8.8 for the water, which contains traces of pink Himalayan rock salt.
Shaq: "We all know that water is one of the biggest categories for food and beverages on the planet, and I was struggling to find a water company that I felt represented what was most important to me."
Company Chairman Keay is also enthusiastic, saying O'Neal's "positive presence and global outreach will enable Alkaline88 to aggressively push our growth trajectory even faster. We will have a ton of fun with Shaquille's larger-than-life personality."
Keep an eye open for new Shaq-vertising to include everything from social media to national and regional television campaigns. O'Neil said the plan is to have the product in 90,000 to 110,000 stores by the end of 2022, up from 75,000 U.S. stores currently. He says there are also plans to expand into mainland China.
Of course this isn't the first brand partnership for O'Neal.  He's been a member of the Board of Directors of Papa John's International Inc. for several years… he also owns nine Papa John's Pizza restaurants in the Atlanta area. 
Shaq's work with Papa John's has been profitable. Since joining the company, the stock has more than doubled, handily outperforming both the S&P Supercomposite Restaurant Index and the broader market. Even before the Covid-19 lockdown, Papa John's shares rose 48%.
O'Neal also has done promotions for Carnival Corp., J.C. Penney Co. and Sanofi's topical pain reliever Icy Hot, among others. He said he likes to think of himself as a "medium to bring information" to people, rather than a pitchman. As for Alkaline, O'Neal said he'd been drinking the water for a long time before this deal. "I like the water — I buy in bulk," he said. "I like the big sizes." Of course!