We all know (at least us regular readers here on the ShaqFu Radio blog) that our man Shaq is not only a former NBA top-level superstar and current business mogul, but he's also a big (BIG) music fan and club DJ. He's got that cool alter ego DJ Diesel, and he's appeared at clubs and concerts around the world. 
In a recent interview, O'Neal said that way back in the 1990's (yes, while he was still in his NBA playing days) that he was offered a cool $10 million dollars for three rap albums by publisher Jive Records. 
While Shaq did accumulate several NBA Championships in his playing days, he did also create one platinum-seller (yes, that's a big deal in the record business). It was called "Shaq Diesel" and was released in 1993. 
If you're old enough, you may remember that actor and comic Arsenio Hall had a late night talk show of his own years back. O'Neal says his hip-hop career started as a direct result of one of his appearances on Hall's program. 
Shaq's record came out on the same label that already had big stars in its stable: R. Kelly, A Tribe Called Qwest, Aaliyah and Boogie Down Productions, to name a few.
On a recent edition of the "Between the Lines" podcast, Shaq talked about the experience: "I was coming to the NBA, Arsenio Hall kept calling, 'Hey, man, I want you to come on.' But I didn't want to just go buy a $10,000 suit and sit on the couch and brag and, 'I'm going to do this, I'm going to do that.' I wanted to do something different. So he kept saying, 'What do you want?' I said, 'I want to rap with my favorite rap group.' At the time my favorite rap group was Fu-Schnickens. So we contact Fu-Schnickens, and they flew down."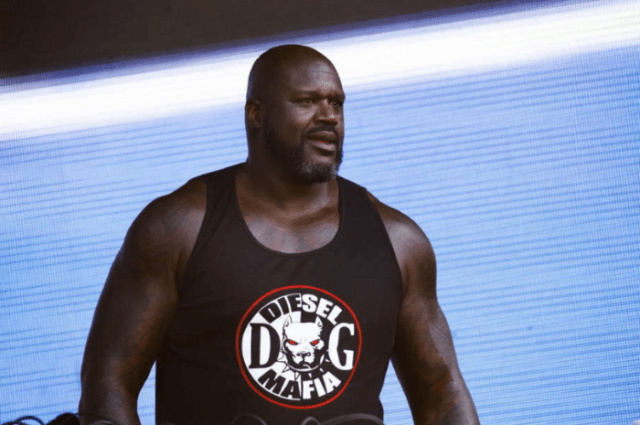 Check your rap and hip-hop history books for this one: the group Fu-Schnickens, from Brooklyn, New York. Members were Chip Fu (Roderick Roachford), Moc Fu (Joe Jones) and Poc Fu (Lennox Maturine). The rapid rhyming rap trio enjoyed top 10 success with their debut single, the reggae-tinged "Ring The Alarm" in 1992 and its follow-up singles "La Schmoove" and "True Fu-Schnick."
O'Neal credits Chip-Fu for teaching him how to rap by coaching him on his delivery. "We went up, we performed it," he recalled. "Then the next day, my agent says, 'Hey, I don't know if you want to take this call, but Jive wants to offer you a record deal.'
At first, Shaq says he wasn't really interested in becoming a rap star. He had a quick change of heart when he heard the deal was for $10 million for three albums.
"I was like, 'I'll take it.' And so that's how I started doing my albums," the former Los Angeles Lakers center confessed. "I never wanted to be a rapper, but I did want the opportunity to rap with all my favorite MCs, and just have fun and do the video with them, that's what it's all about for me."
The first single Shaq released was "(I Know I Got) Skillz." It made it up to No. 35 on the Billboard Hot 100 chart and was certified gold. Years later, the track appeared in the 2008 stoner comedy "Pineapple Express."
Shaq's final album – called "Respect" – was released in 1998. It eventually sold a little over 100,000 copies. Not a bad music career for a guy who never thought he wanted to be in the business!