Big announcement for Florida high school athletes: Our man Shaq is slated to be one of the presenters for the Southwest Florida High School Sports Awards. 
The NBA Hall of Famer will be joined by Sue Bird, a female athlete with an incredible resume: She's a four-time Olympic Gold Medalist, four-time WNBA Champion and four-time World Cup Champion. 
Shaq will announce the Male Athlete of the Year, Bird the Female Athlete of the Year in an online program presented by Babcock Ranch, a Southwest Florida residential development.
The Southwest Florida High School Sports Awards is part of the largest high school sports recognition program in the country. Top athletes in most state-sanctioned sports will be honored during an on-demand broadcast at 8 p.m. Eastern  time on June 28 on the event website.
Shaq has always been a big supporter of youth sports programs. He's had a philanthropic connection with the Boys & Girls Club of America that dates back to his early days in New Jersey. He's currently a national spokesperson for the organization and has been participating in campaigns with the non-profit for the past 15 years. Back in 2019, he kicked off The Shaquille O'Neal Foundation, helping underserved children reach their full potential.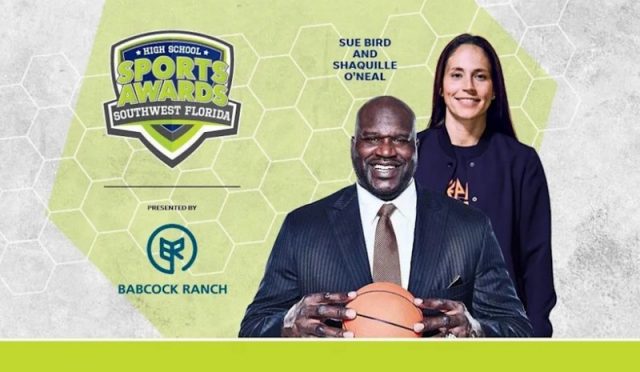 As for Sue Bird, she's a legend in the WNBA: the all-time leader in assists… and she's one of only seven women to win an Olympic gold medal (she has four of them), a World Championship gold medal (also four) an NCAA Championship (two) and a WNBA Championship (four). 
Also appearing on the show will be Urban Meyer, a three-time college football national champion coach, who came out of retirement in 2021 to take the lead coaching role for the Jacksonville Jaguars. Before that, the Ohio native led the state's beloved Buckeyes to the program's eighth national championship. He had previously led the Florida Gators to two BCS National Championships and is one of just three coaches to win a football national championship at two universities. 
Meyer will be announcing the Team and Coach of the Year, and the track and field awards will be announced by Olympic track and field gold medal winner Michael Johnson.
The Southwest Florida High School Sports Awards is a multi-month student-athlete recognition program. Due to COVID-19 safety precautions for students and guest speakers, the event was converted to an on-demand broadcast show for 2021. Honoree selections for state sanctioned sports, who are all featured in the show, are announced throughout the year on the event website.
The show will be free to watch on any smartphone or computer thanks to local business sponsors. Honorees should register on the show website to reserve their complimentary athlete gift box. Registrations are also used to send out awards for winners following the show.
Top high school athletes, coaches and teams from select state-sanctioned sports across the U.S. will be featured in the inaugural USA TODAY High School Sports Awards.