Former NBA star and Atlanta-area resident Shaquille O'Neal has been known to help out his neighbors from time to time, sometimes spontaneously, without any big plans. Earlier this year, we saw him help a young man buy an engagement ring for his girlfriend. 
In his latest move, O'Neal demonstrated more generosity as he and his partner foundation bought and distributed 500 pairs of shoes to kids in an Atlanta-area neighborhood. 
Shaq's own Shaquille O'Neal Foundation works with Reebok and the "Soles4Souls" program to get shoes to kids in Henry County, GA. 
Shaq visited Wesley Lakes Elementary School, a McDonough Title I school, saying he is happy to put a smile on kids' faces at the end of the school year.
"It's all about the kids," O'Neal said. "The two things that really hurt me this year we're seeing 40 million people out of work, and I hate seeing kids who don't have what they need."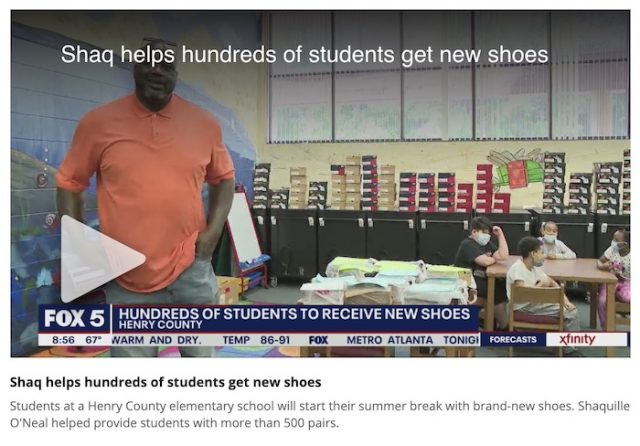 To see the full video, click here…
Some of the shoes were handed out right away, more will go to kids throughout the summer. This isn't the first first time O'Neal has given back to the Henry County area. Shaq helped provide gifts to children last Christmas with a toy drive.
Back in February, the Shaquille O'Neal Foundation and corporate partners helped high school athletes and athletic programs burdened by the COVID-19 pandemic. 
Part of that work has been through groups like Boys & Girls Clubs and Communities in Schools. For the Schools program, the "Shaq-To-School" initiative has donated $10 million worth of school supplies across the country.
Last year, the foundation collaborated with Icy Hot to commit $320,000 in grants to Title 1 high schools whose sports programs were impacted by Covid-19, and with American Express to provide $10 million in grants to Black-owned businesses affected by the pandemic.