More than 20 years ago, Los Angeles Lakers superstar center Shaquille O'Neal was named the league's Most Valuable Player. It's taken more than two decades, but now another center has been named league MVP – Denver's Nikola Jokic.
NBA Commissioner Adam Silver appeared via video call to the Nuggets locker room this week, announcing the award. The Serbian star has had well, an MVP season, averaging a career-high 26.4 points to go with 10.8 rebounds and 8.3 assists while playing in all of the Nuggets 72 games this season. 
The team was the number 3 seed in the NBA's Western Conference with a record of 47-25. Denver eliminated the Portland Trail Blazers in the first round of playoff action, and are not on to the second round against top western seed Phoenix. 
For the win, Jokic got 91 first-place votes in MVP balloting, beating out Philadelphia 76ers center Joel Embiid, Golden State Warriors guard Stephen Curry, Milwaukee Bucks forward Giannis Antetokounmpo and Phoenix Suns guard Chris Paul. For the record, Curry was the only other player to receive more than two first-place votes.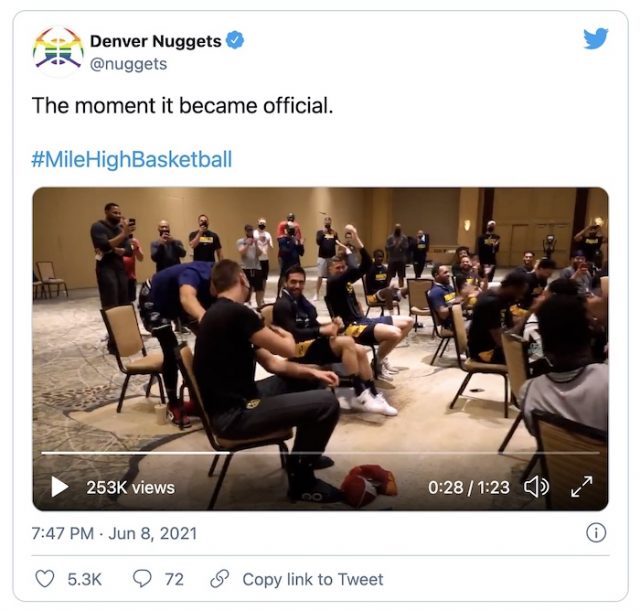 As for Jokic, he was humble in accepting the award in front of his team and staff: "I never thought I was going to do something big. [Winning MVP] doesn't affect me that much, to be honest. When I see the list, of course there's great names. It's an honor. I never thought I would be on the list. It's a surprise. I'd rather win a championship than win MVP."
Shaq talked about how great it was to have another center win MVP, even if it's taken so long to happen. Shaq: "Thank you. Because of you, the big man is back."
Jokic is just one of several big men to have great seasons – and they're all still in playoff contention: Embiid with the 76ers and Antetokounmpo with the Milwaukee Bucks. 
Fun fact: Jokic was the 41st pick of the 2014 draft, making him (technically) the lowest-drafted player to be named MVP. There's always the story of two-time winner Moses Malone, who went undrafted. (How did that happen?) Also, Jokic is the third consecutive MVP to hail from outside the United States after Antetokounmpo won the award in 2019 and 2020. 
Long known for his creative passing ability, Jokic's 8.3 assists per game ranked second all-time among centers, trailing only Hall of Famer Wilt Chamberlain's 8.6 in 1968. 
"When I came here, we weren't that good," Jokic said. "We had 30 wins. Every year, we had more wins and we were growing, getting better and better, even in the postseason. That's something that's really cool, and it's nice to be a Denver Nuggets fan right now."