If you've ever seen Jimmy Kimmel's late-night TV talk show, you've probably seen one (or more) of the "Mean Tweets" segments. This week the Kimmel show featured an all-NBA lineup to hear from the haters, and our man Shaq was one of the not-so-lucky recipients. 
If you've never seen it (where have you been, BTW?), "Mean Tweets" is where the staff of the Kimmel show scour Twitter for nasty, negative and (maybe) funny things being said about upcoming guests on the show. The idea is that during the segment, the person who the mean tweet is being directed at will read it on air, and get to respond in whatever way they want.
If you haven't seen any Mean Tweets, we at the ShaqFu Radio blog would encourage you to head over to YouTube. The compilation videos get literally millions of views. Some are super funny, some just angry. Big name stars and other luminaries – including former President Barrack Obama – have volunteered to read some of the nastiness directed at them personally. 
For this latest edition, the Kimmel staff rounded up Atlanta Hawks point guard Trae Young, Milwaukee Bucks star Khris Middleton, and Shaq, who was one of the live guests on the Kimmel show that night.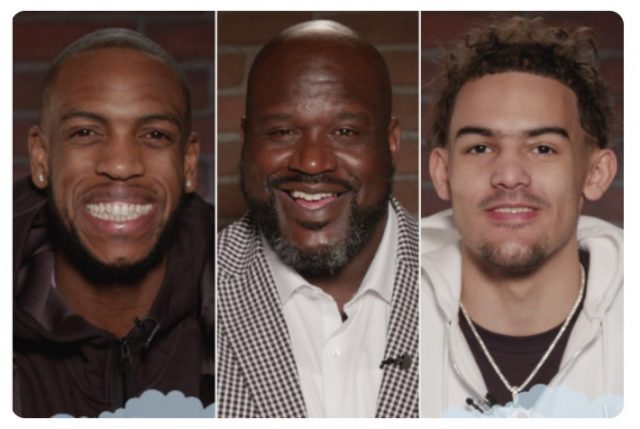 In the clip, Bucks star Khris Middleton, who was also recently selected to play on Team USA for the Tokyo Olympics, hilariously shows off his pearly whites while reading a mean missive that says, "Khris Middleton can chop down trees with his teeth."
NBA on TNT analyst and retired NBA star Shaquille O'Neal also reads a harsh tweet about his appearance. "Shaquille O'Neal? More like Shaquille-Hasn't-Missed-A-Meal," the Hall of Famer says, even adding, "That's a good one."
Last but not least, Atlanta Hawks point guard Trae Young laughs off a mean tweet about his hair. "I like Trae Young but his hair looks like a lollipop that got dropped on the carpet," the athlete says with a laugh. "What flavor lollipop? I may be delicious," Young adds.
This particular episode of the Kimmel show has not aired yet (at the time of this writing), but our thanks to People Magazine for a sneak preview look and read of what's coming up. For a look at the video itself, you can click here: 
https://people.com/sports/shaquille-oneal-trae-young-khris-middleton-star-in-nba-2021-finals-mean-tweets/