As the 2020-21 NBA season winds down (or up!) with the Finals going on as of this writing, there has been some interesting – and at times heated – discussion about league schedules and the impact we've seen on the game's star players. 
A number of big-name superstars have been either sidelines or have had to play through injuries this year. That generated some tough words from one of the game's biggest superstars, LeBron James. The feedback has been equally strong, including some from Shaquille O'Neal.
Of course over the years, James has never been shy concerning voicing his opinion on just about any matter. Neither has our man Shaq. A few weeks ago, James went on Twitter to talk about his frustration over the league's decision to start this year's season less than 90 days after the prior season wrapped up in the now-famous "bubble" in Orlando. 
James: "They all didn't wanna listen to me about the start of the season. I knew exactly what would happen. I only wanted to protect the well-being of the players which ultimately is the PRODUCT & BENEFIT of OUR GAME! These injuries isn't just "PART OF THE GAME". It's the lack of PURE RIM REST rest before starting back up. 8, possibly 9 ALL-STARS have missed Playoff games (most in league history)."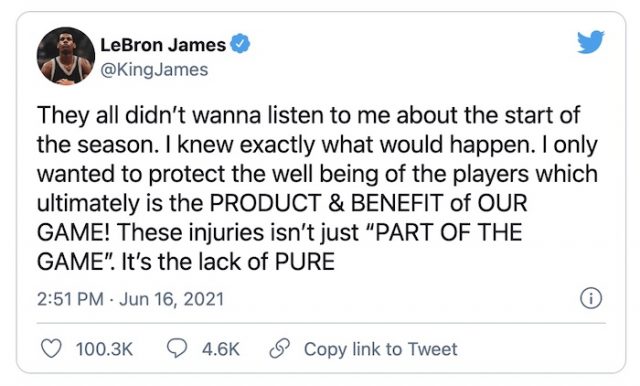 He continued: "This is the best time of the year for our league and fans but missing a ton of our fav players. It's insane. If there's one person that knows about the body and how it works all year round it's ME! I speak for the health of all our players and I hate to see this many injuries this time of the year. Sorry fans wish you guys were seeing all your fav guys right now."
Yes, there have been a higher than usual number of injuries to star players this year. Was that because of the fast return to action after last year's season? Maybe. Has the lack of stars affected the playoff chances of some teams? Hard to say. 
Everyone gets their own opinion on the matter, including O'Neal. It didn't take long for a former NBA great to add his thinking to the discussion. For starters, Shaq had some hard words for King James when it came to complaining about a short offseason… considering his sky-high money. 
On Fox News, Shaq said, "When you're living in a world where 40 million people have been laid off and I'm making $200 million, you won't get no complaining from me. I'd play back to back to back to back to back."
Other commentators have weighed in as well. On ESPN's First Take, Stephen A. Smith said he agreed with Shaq. Check out the video below: 
As for Shaq, it doesn't seem he's bashing James personally, but it's clear he's got different opinions on NBA season scheduling. The two did play together for a time with the Cleveland Cavaliers. Not sure if they're friends off-court, but they've certainly got their differences on this matter.