Did you see Game Three of the NBA Finals last night (as of this writing, it was last night, anyway)? Giannis Antetokounmpo was on fire again. Even though his Milwaukee Bucks lost Game Two to the Suns, the man they call the Greek Freak went off for 42-points and a dozen rebounds. Game Three was pretty much a repeat for Giannis, and the Bucks pulled out a big win. 
For Game Three, Antetokounmpo scored 41, grabbed 13 rebounds, and had six assists in 38 minutes in that big 120-100 win at home. It was then that the Shaq comparisons started to flow. 
Giannis is only the second player in NBA history to score 40-plus points in back-to-back games in the Finals. The other? Shaquille O'Neal with the Los Angeles Lakers, during that team's amazing three-peat as NBA Champs. 
Game commentators were even more impressed with Antetokounmpo's play… and the fact that he's been able to play at all – after he suffered what looked like a really bad injury to his knee in the Eastern Finals series against the Atlanta Hawks. Some speculated he was done for the season at that point, and may even have been facing some off-season rehab. But the big man showed some real toughness. Perhaps he hasn't been absolutely 100 percent in the games since, but scoring 40 back to back is nothing to sneeze at.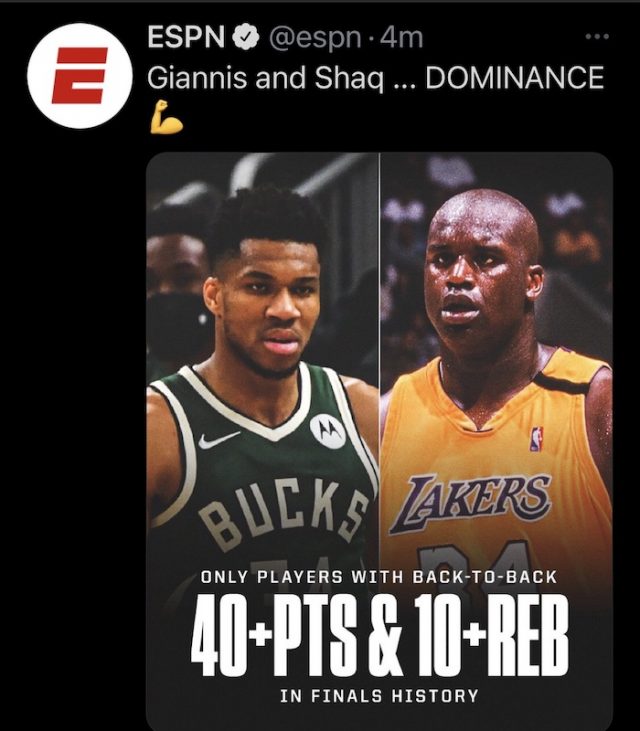 The interesting Shaq connection is not just in the raw numbers. In an interview with sportswriter Alex Wong (now with Yahoo! Sports), Shaq was asked what player in today's game reminded him of himself in his playing days. Giannas Antetokounmpo was his answer. 
Give him credit… Shaq definitely recognized young talent. At the time of the interview, Giannis was still very much a work in progress. Antetokounmpo certainly had the size and strength to dominate the game, but he was a bit of an unknown. Milwaukee didn't even know what position they wanted to play him. For a time, (then) head coach Jason Kidd experimented with their franchise player at point guard.
Now here we are in the 2021 Finals, and the comparisons to O'Neal seem very much spot-on. While Antetokounmpo still gets some flack from basketball pundits for not having an effective offensive game, what he's got seems pretty darned good. In Game Three, he put the Bucks on his back and put a big hurt on the previously-dominant Phoenix Suns.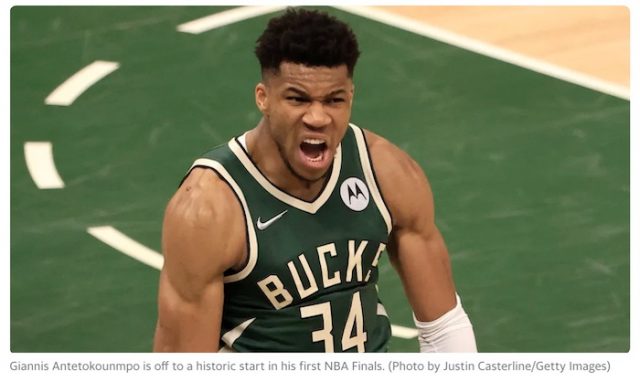 Of course, no single great player can win a championship by themselves. O'Neal had Kobe Bryant in Los Angeles and Dwyane Wade in Miami. LeBron James had Wade and Chris Bosh in Miami, Kevin Love and Kyrie Irving in Cleveland, and Anthony Davis in Los Angeles. 
The Bucks do have a strong lineup. Now it remains to be seen if Antetokounmpo and the rest of his Milwaukee teammates have what it takes to put Chris Paul and the Suns back on their heels. Stay tuned… it's getting interesting!