Shaq-history note: It was on this very date (as of this writing, July 14th), that the big man was officially traded from the Los Angeles Lakers to the Miami. Yes, it was 17 years ago… does that seem like a long time? We here at the offices of ShaqFu Radio remember it well. Result: Pretty good, we'd say. The NBA Championship came right along with Shaq from the Lakers to the Heat.
In more NBA / Shaq history, a recently-unearthed interview with former Chicago Bulls superstar Scottie Pippen says he was the only player he actually feared trying to defend against. Remember, Pippen played against other greats of the day like Patrick Ewing, Dennis Rodman and others. For all those, Shaq was at the top of the "most feared" list. It was a list of one. 
Thanks to our friends at www.FadeawayWorld.com for finding this story, dating back to 2019. Talking to reporters on ESPN's show "The Jump," Pippen said Shaq (also known as the Big Diesel) was a force of nature to be feared on court. It was all about Shaq's unrivaled combination of speed and strength.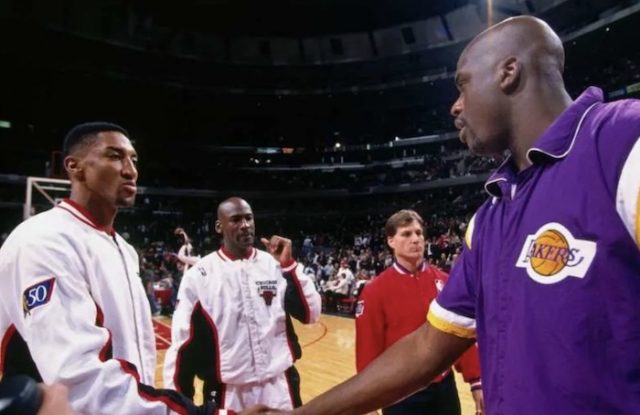 Pippen: "It was not fun playing against Shaq. I didn't fear too many players during my career, but Shaq's one of those guys that I feared, and the fact you had to come down and double team on him. He had the speed, the power, the spins."
Pippen said the big man was virtually impossible to defend one-on-one, and even when you double teamed him, it was still going to be a very difficult task: "He was just a very difficult guy for us to defend as a team. Not for me as an individual, but I had to come down and double team. That was almost worse than guarding him because he would swing with his arms. Our whole gameplan was if you gonna double-team Shaq, you better get there before they get the ball in there because if you get there after, you're just gonna be a part of a poster."
At the time, Pippen even went as far as to label Shaq as the most dominant player of all time, separating him from Michael Jordan. This man was a menace, and absolutely nobody stood a chance against him during his best days, not even Pippen. 
"To me, Shaq was the most dominant. I would say Michael is probably the most unstoppable, but when you talk about dominant like we used to try to stop Shaq from running like that was kinda the gameplan. Don't let Shaq run. Don't even think about him getting the ball; just stop him from running. He gonna beat most of the players down the court."
Even though they beefed after both players retired, their respect was there, and Pippen showed that with his comments. He knew Shaq was something else, and the center didn't hesitate to use all his power to beat his rivals.