Where do you have your Alexas devices? This writer has one in the home office, one in the kitchen, and probably another somewhere in the house. What time is it? Just ask the room. What's the weather for tomorrow? Same thing… just ask. Now – how would you like the voice that answers to be our favorite former NBA superstar and super-cool guy, Shaquille O'Neal? Yes… it's happening. 
Amazon has announced that the latest two celebrity voices for their Alexa digital assistant will be Shaq and actress / comedian Melissa McCarthy. How cool is that? 
Now, these two voices (and others) are not as full-featured as the regular Amazon Alexa personality. Still, they can do things like provide weather reports, jokes, and personal stories when asked. Instead of starting your request with "Alexa," you'll say "Hey Shaq" or "Hey Melissa" to get things started. You'll pay about five dollars for the privilege of having Shaq as your digital genie…and Amazon says the new services are rolling out in the US now.
Hmmm… Shaq as a genie… haven't we heard that before? Answer: Check previous ShaqFu Radio blog posts for your answer. Spoiler alert: the answer is YES. 
It was back in 2019 when Amazon had the cool idea of a celebrity voice for Alexa, and started with Samuel L. Jackson, hopefully keeping it all PG. Amazon says that particular voice "skill" as Alexa features are sometimes called, was the best-selling digital purchase on Amazon.com the day it was launched. The next year, 2020, Amazon followed up with the voice of Bollywood star Amitabh Bachchan.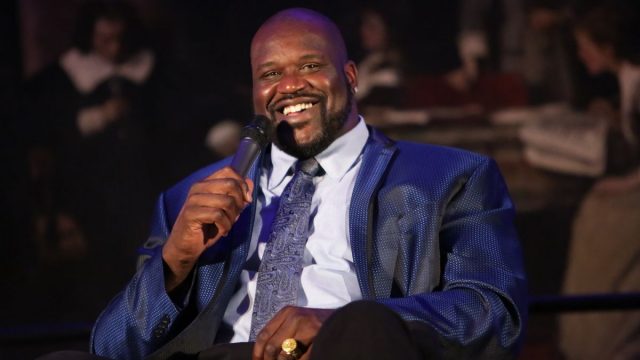 Now, it's important to know that none of these celebrity voices completely replaces the default Alexa voice (that would take a ton or work!). Instead, the offer responses to specific requests.
Still, some new Alexa options are on the way. Want to hear something new? Amazon says it's releasing a new voice option, which you can enable with the command "Alexa, change your voice." Also, there's also a new wake word, "Ziggy," if you're tired of the existing selection (which currently includes Alexa, Computer, Echo, and Amazon).
To activate the new celebrity personalities, say "Alexa, introduce me to Shaq," or "Alexa, introduce me to Melissa." After an explanation of the feature, you'll be prompted to accept a $4.99 fee to buy and install the celebrity personality. The celebrity personalities can also be purchased via Amazon.com.
Once installed, you can ask O'Neal things like "Hey Shaq, give me an update about the NBA finals." The experiences also deliver some of the celebrities' unique personalities. You can ask O'Neal to show off his musical ability by saying "Hey Shaq, rap for me," or you can have McCarthy brighten your day by saying "Hey Melissa, tell me a joke."
In an interview with Rolling Stone Magazine, Shaq said, "It's going to be a fun experience. [Amazon] gave me the creative liberty to create the type of content that would resonate with my fans." Along with sports updates and rap, the digital Shaq also plays rock, paper, scissors, too. You can also ask Shaq for advice, or ask him to read you a story, or maybe even offer some recipe tips.
Don't worry, parents. Shaq says the music is kid and family-friendly. "The raps are fun," he says. "It's not Lil Baby or Lil Yatchy but it's just some kid-friendly cute stuff." 
As for the staff here at ShaqFu Radio, we can't wait to hear the Big Man inside our little Amazon Echo!