As of this writing, the Milwaukee Bucks have taken a big 3-2 lead in the NBA Finals, and they're now just one game away from the Championship. Bucks' superstar Giannis Antetokounmpo continues with the history-making stats, and the comparisons to our man Shaquille O'Neal grow by the game. 
After falling down 0-2 to start the Finals against Chris Paul and the Phoenix Suns,  Giannis and his Bucks have won 3 straight games to take the lead. The man they call the Greek Freak has continued to show his incredible value as the series goes on. 
Overall, the two-time MVP has been averaging 29.2 points, 12.8 rebounds, and 5.3 assists in the 20 games he's played this postseason. Along with those numbers, Giannis is shooting 56.5% from the field.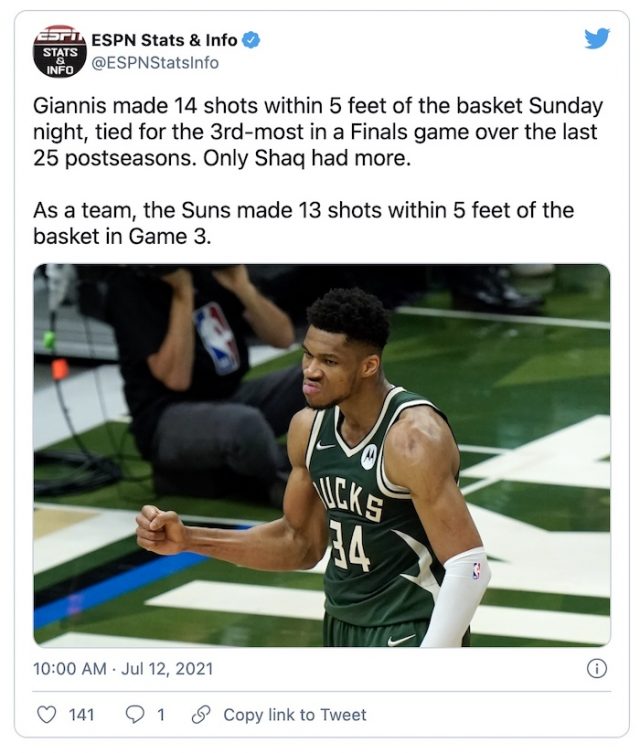 As we've said before, the comparisons to O'Neal are front and center. That stat of 56.5% from the field? Strong. In fact, The Freak has been over 50% from the field in 13 consecutive playoff games. This is the second-longest such streak, with Shaq holding the record with 21 games with those kinds of numbers.
Shaq fans know it: O'Neal used to be an absolute dominating force in the league. His paint presence was amazing, making Shaq pretty much unstoppable down low. Fans watching now can see that Antetokounmpo is building his reputation up the same way.
If Giannis keeps playing the way he has, he can follow in Shaq's footsteps and win a title in his first trip to the Finals. The Bucks have two games to pull off this nice bit of history. Chris Paul and his Suns are going to try to force a Game 7, but we'll have to see how things turn out with Game 6 coming up.