Fear the deer is real! The Milwaukee Bucks claimed the NBA Championship with a great game six win in front of home fans this week (as of this writing). Final score: 105-98. Almost half the Bucks total was scored by superstar Giannis Antetokounmpo, who had 50 for the night. What a great performance!
While the man they call the Greek Freak won praise from NBA fans of all stripes, some of the biggest, best words came from our man Shaquille O'Neal.
Over the course of the series, Shaq has been singing the praises of Antetokounmpo, mostly via his Instagram account.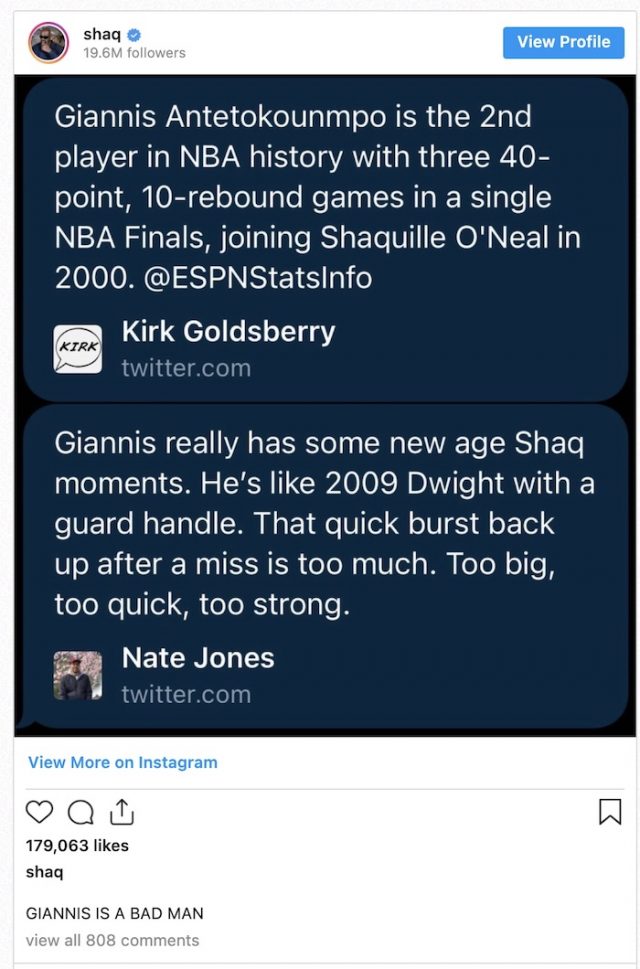 Of course O'Neal knows a thing or two about winning championships. He won four titles in his NBA career, three of which came with the Lakers. He was named to 15 All-Star teams during his playing days and is now a Hall of Famer.
Antetokounmpo often draws comparisons to O'Neal. Antetokounmpo's dominant and physical playing style resembles O'Neal's in many ways.
Antetokounmpo is on top of the sports world right now, and he has earned every bit of his praise. In the finals, he averaged 35.2 points, 13.2 rebounds, 5.0 assists, 1.2 steals and 1.8 blocks per game. He scored 50 points in the clinching game.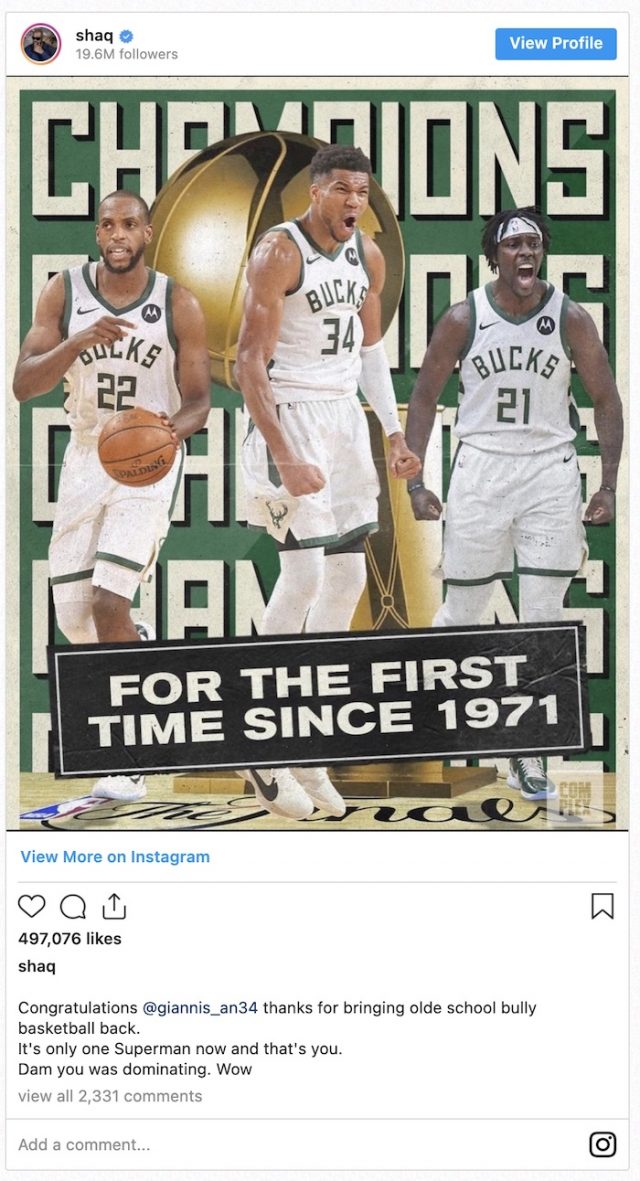 Shaq-historians know O'Neal had often been labeled – and personally encouraged – the "Superman" on-court identity. In an IG post after the Finals-clinching Game Six win, Shaq posted, "It's only one Superman now, and it's you." High praise from the Lakers legend! 
Along with winning the NBA Championship along with his Bucks teammates, Giannis was also named the series MVP. That's yet another connection to Shaq, who did the same with the Lakers when they beat the Indiana Pacers for the NBA Championship back in 2000. (Almost the exact same day, BTW.)