Another one of those totally cool, totally random Shaq appearances!

Seems O'Neal was "eatin' good in the neighborhood" when he ended up in someone's online TikTok video in front of a local Applebee's restaurant in the Tampa, Florida area. 
Now that basketball season is over, Shaq is out touring and doing his DJ Diesel thing at clubs and big parties. The schedule had him in Tampa last weekend (as of this writing), and well… a guy's gotta eat, right? 
Seems a local woman named Kelly Roesler at the same Applebee's at the time. She was going live on her TikTok account in the parking lot, prepping to perform a little dance to the Walker Hayes song, "Fancy Like," which includes a shoutout to Applebee's.
What? You don't know it? Here's the line: "Yeah, we fancy like Applebee's on a date night … Got that Bourbon Street steak with the Oreo shake." Check it out. 
Anyway, Shaq was coming out of the restaurant with a few friends at just the right time. He saw the video going down, and – Shaq being Shaq – jumped into action, dancing in the background.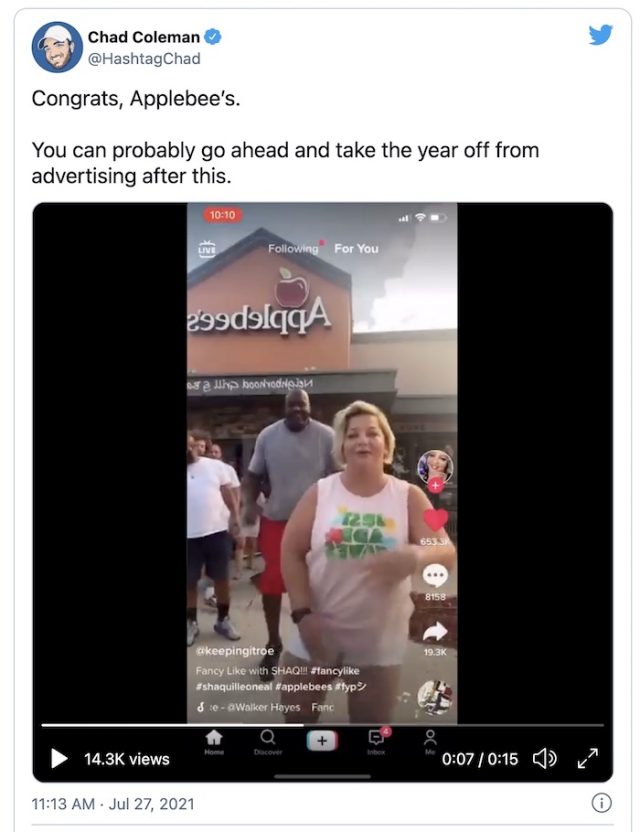 Roesler noticed the commotion and turned around to see the big man putting on some of his best dance moves. Being the good film director and recognizing a great scene when she saw one, she simply moved out of the way to let the big man have his viral moment.
Later while posting the video, she made sure to title the video, "Fancy Like with SHAQ!!!" and it has already racked up thousands of views on the social media platform. Thanks to our friends at TheBigLead.com, you can check it out here: https://www.thebiglead.com/posts/shaq-applebees-tik-tok-dance-video-01fbm978w5tn
At the end of the video, she said, "Maybe if this goes viral Shaq will meet me again so we can finish the dance!" Indeed, there's already some word from O'Neal's people that a return meeting could happen. 
On TikTok, users couldn't believe how casual Roesler was in front of Shaq, with one comment reading, "I like how you just saw Shaq in person and you continue with your dance."
"This is how we're supposed to act around celebrities," another user commented, while another person pointed out that fans were spilling out of Applebee's after Shaq hoping to get a photo with the star.
Others thought the special moment outside of the restaurant chain warrants some sort of endorsement deal. "Applebee's just got a nice commercial… how much are you going to pay this lady?" someone commented on the video.
Of course Shaq is a TV and online spokesman for a lot of businesses, including his own. Some of them include The General Insurance and Papa John's Pizza. Who knows? Maybe Applebee's will be Shaq's next client…