When you ask just about any entrepreneur or business boss about their "best deals ever," they'll probably talk about how they scored huge money on some particular deal or trade. As always, our man Shaq is a little bit different. OK, a LOT different. 
On a recent podcast interview, O'Neal says his "best" business story is the time he walked away from a $40 million Reebok sneaker deal. Thanks to the Sports department at the New York Post newspaper for info on this story. 
Talking on the "Full Send" podcast this week (as of this writing), Shaq talked about the reasons why he thought to leave – just walk away – from a huge-money deal with the sneaker company Reebok. The big man told the podcast audience it all started when he got called some nasty names by a lady he ran into on the street.
Note: we're going to be careful with language here on ShaqFu Radio. If you want to see the full story and some of the juicy language, check out the story and related video at https://nypost.com/2021/08/27/shaquille-oneal-explains-turning-down-40-million-reebok-deal/
The story takes place back during Shaq's playing days. O'Neal says he got called out by a lady for the big-money price tags on the brand of Reeboks he was promoting, the very popular "Shaq Attaq" brand. Anyway, Shaq says the lady called him a very unflattering name for charging so much money for his shoes.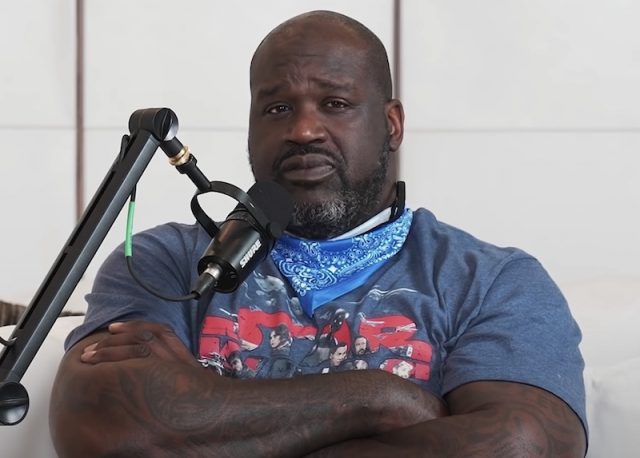 We've seen how Shaq will sometimes help people buy things in stores or buy a meal in a restaurant. Apparently he tried the same thing with this woman. He said: "I had $2,000 in my pocket. I said, 'Lady I don't make the prices. Here you go, and she smacked the money out of my hand, [and said], 'Why don't you m-f'ers make a shoe that's affordable?'"
Shaq says that was the moment he "saw the light" and made the decision to turn down his $40 million, 5-year deal with Reebok. "I was like, 'You know what, she's right.' So that day, I cut ties with Reebok and started my own brand," he recalled. "I said keep the money… this ain't right. I'll still wear the shoes I wear during the season, but I'll be looking to do my own thing. So, I started the Shaq brand."
"I went to my favorite store, Walmart, and we did a deal. I was in all stores and my price point for the shoes was $29-$19 and since then we sold over 400 million pairs. It's not kids that don't want to wear $20 shoes, they don't want to wear shoes that look like they cost $20."
Moreover, Shaq said there was no no bad blood between him and Reebok after he announced his decision. He said he brought along designers from Reebok with him to join his Walmart deal.
Originally, O'Neal started a business relationship with Reebok in 1992. Back then, he signed a $15 million multi-year deal with the brand. He went on to launch his popular Reebok Shaq Attaq and Shaqnosis shoes — even though he wore Reebok throughout his entire NBA career.
Interestingly, Shaq and Reebok are having a renewed business relationship. Reebok was sold to a holding company called Authentic Brands Group (ABG), and Shaq is part owner of that company.