More shoe news! Here at the ShaqFu Radio blog, it's been a week filled with post about Shaq and his connection to the shoe business. Like most NBA superstars, Shaq had promotional contracts for the shoes he wore during playing days. Now he's back in the shoe business, and in today's post – news of a new shoe project… a collaboration with another (currently playing) superstar.
The new project features Shaq and Portland Trail Blazers star Damian Lillard, which is weird if you think about it, since the two had quite the battle – rap battle – just a few months ago. Now they're working together. Ahh, business. 
Lillard and O'Neal have created what's being called a "rebrand" of a classic pair of kicks, the super-cool "Shaqnosis" model, originally created and manufactured by Reebok. (Check previous posts for several stories about Shaq's dealings with Reebok and his sneaker-endorsing career.)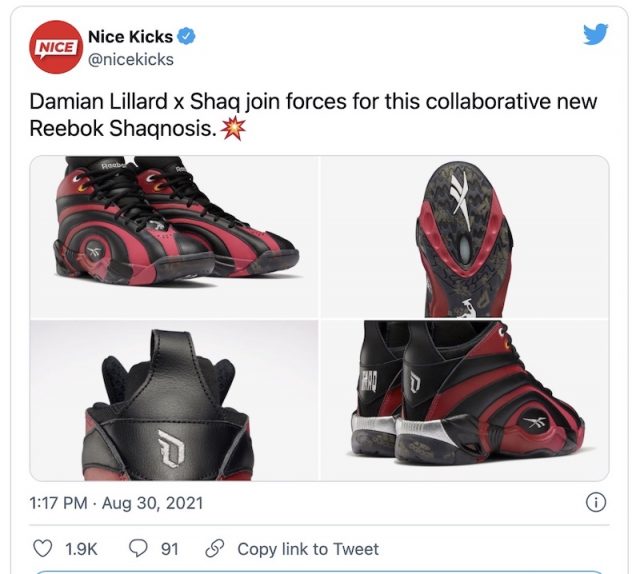 Originally, the Shaqnosis model had a spiral pattern in black and white (like hypnosis, get it?). Now the shoes have been updated with red and black stripes, with more color combos to come. The original black and white "Shaqnosis" shoes from Reebok debuted in 1996. 
The really interesting part of this is the connection to two different sneaker companies. Shaq recently made moves to take a part-ownership role in Reebok, and Lillard has a sneaker deal with Adidas. So that means – is this a first? – the shoes will feature both Reebok and Adidas logos. Adidas owned the Reebok brand until Reebok was sold to Authentic Brands Group in early August. Shaq has a big investment in Authentic Brands, so you see the connections. 
Ready for a new pair of retro / updated kicks? The new Shaqnosis should be on sale at a store near you (or online, of course) as you read this. As mentioned, the first color scheme is the red and black, but other colors are in the works. Happy shopping!