Summer is cooking, and the deals and trades in the NBA are definitely hot. Regular season begins in late October, with the Milwaukee Bucks defending their amazing Championship win. 
Shaq's old team, the Los Angeles Lakers suffered a heartbreaking loss in the first round of the playoffs, and that's had the team looking for talent to improve their chances next season. Honestly, the Lakers have been one of the most aggressive teams this offseason, with Lakers Vice President and General Manager Rob Pelinka making deals at warp speeds. 
A quick look at the incoming players shows lots and lots of experience. Some have said the Lakers are getting even "older," but O'Neal likes what he sees so far. 
Still, questions will be expressed. Can this group of admittedly older players stay healthy and sharp through the entire season? Will they be just as strong come playoff time as they will be at the start of the season? Only time will tell, of course. 
As for Shaq, no worries. As a member of the TNT "Inside the NBA" crew, he's got the high-level view of all the strong teams. He says even those teams that might be stacked with younger players have had troubles going the full distance of the NBA season as well.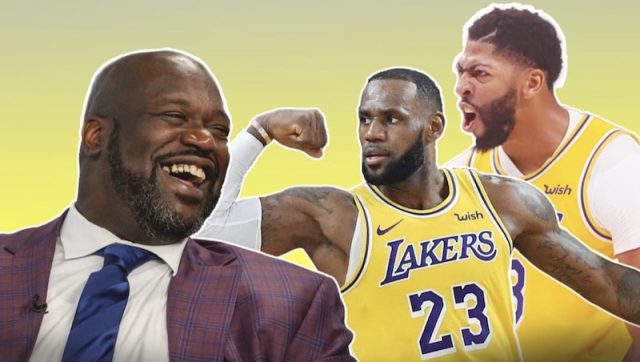 Speaking to the news and sports website www.Complex.com, O'Neal has been watching the Lakers make their moves: "Yeah, they definitely stacked their team. They're older, but until you can show me a young team that has dominated the league, I'm not really worried too much about their age."
True enough, Shaq. Good point. Checking the records, we can see the (relatively) young 2012 Oklahoma City Thunder had a good run. Didn't win the Championship, but made a nice showing with a young roster. 
Still, the Lakers face tough competition if they're going to make a run at the Western Conference title. After years stuck in injury-related hell, The Golden State Warriors are ready to compete again. The Los Angeles Clippers will be healthy, and the Denver Nuggets are strong, too. 
So now the question that remains is: Will all the new Laker veterans gel in the locker room and on the hardwood? LeBron will no doubt be a part of that leadership team, and he'll have plenty of others to lean on. Still, most of the players coming to Los Angeles have been top dogs (or near the top) on their past teams. We'll see if they're mature and ready to put egos aside when they join the Lakers. 
Meanwhile, the biggest challenge for the "old" Lakers will be to stay healthy throughout the season, but they have a roster that's deep enough to manage their stars' minutes and even give them a night off every now and then. Looking forward to the new season!