Adam Sandler…hoops star? Well, maybe not, but as we all know, Sandler doesn't wear basketball shorts all the time for no reason. He's a huge fan of the game. Not just the "being a fan" stuff – sitting in the Jack Nicholson seats at New York Knicks games, but actually playing the game, too. 
And he's good! Shaq talked about the actor and baller (and friend) on a recent podcast. See, Sandler is regularly spotted at pickup games where he shows off some pretty good moves and shots. The question for O'Neal on the podcast: How does Sandler measure up to the pros?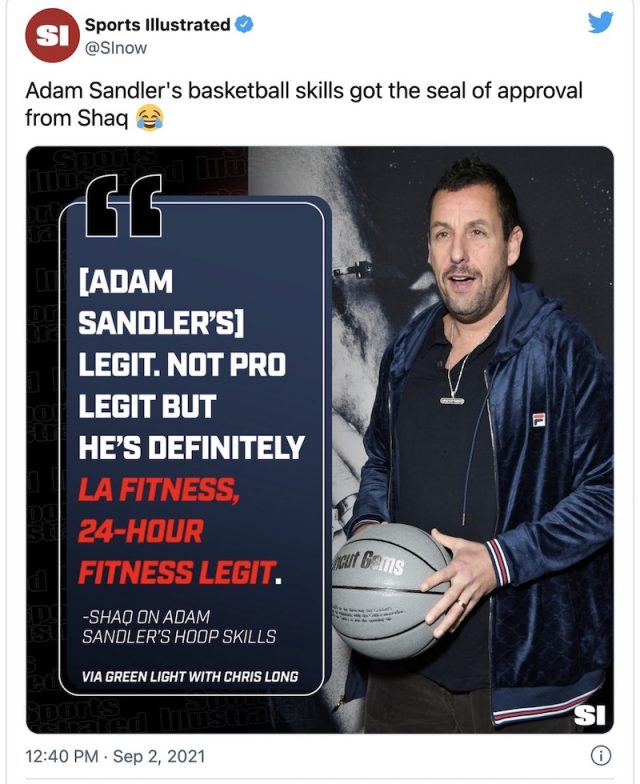 As lots of people say these days, "Let's see the pictures… or it didn't happen." Well, there actually IS a video going viral that shows Sandler at an open gym session with some real, live NBA players like Trae Young, Boban Marjanovic, Tobias Harris and Jordan Clarkson. Catch him sinking a jump shot at the 17-second mark… here's the link to the video: https://www.yahoo.com/lifestyle/heres-shaq-thinks-adam-sandlers-165317841.html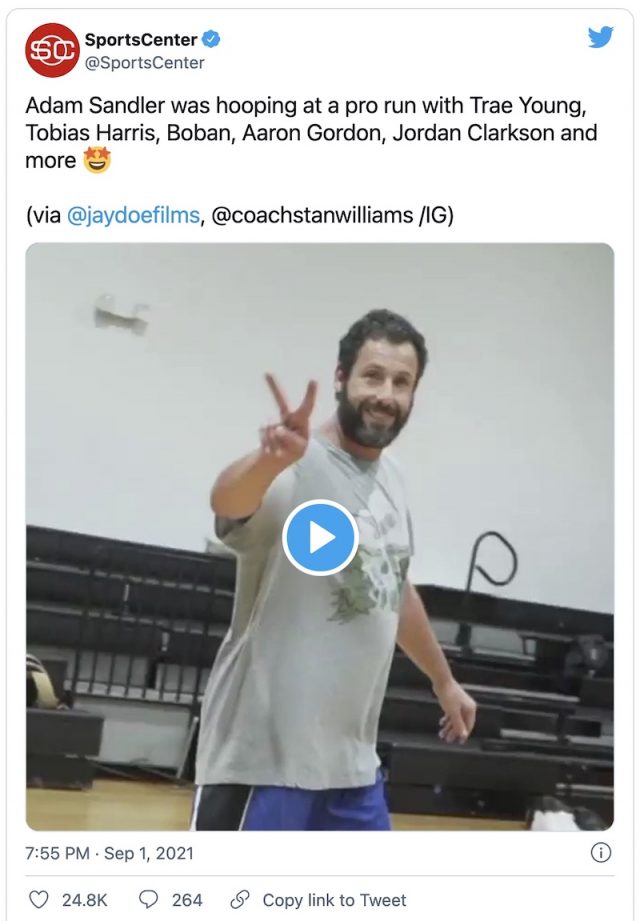 Well, turns out Shaquille O'Neal got some eyes on the video and talked about it on his recent appearance on the "Green Light with Chris Long" podcast. A nice thumbs-up from the big man on Sandler's skills. "He's legit," O'Neal said. "Not pro legit, but he's definitely LA Fitness, 24-Hour Fitness legit."
Is that even a thing? "LA Fitness legit." Haven't heard it before, but if it comes from Shaq, then it's good enough for us. 
Still, O'Neal may be slightly biased. He and "the Sandman" have some history together. Shaq has appeared in four of Sandler's movies (so far). He played himself in 2011's Jack and Jill; he stepped in as Officer Fluzoo in Grown Ups 2; and he played a sporting goods store employee in 2014's Blended. Most recently, Shaq got to put his music / DJ skills to use, appearing as DJ Aurora in last year's Hubie Halloween. Check Netflix for that one… Halloween is coming! 
So, will we ever see Sandler in an NBA uni? Most assuredly not. He's a big fan, for sure, and he's got some moves to show off when needed. Still, the movie star / producer / director role is very cool, too. 
Keep up the good work with the movies, save the hoops for nights and weekends. Besides, he's just turned 54 years old. Not much NBA cap space for a player just over the half-century mark!