Time for an update to a post from a few months ago here on the ShaqFu Radio blog. We're talking about Shaq's involvement with the Kellog's cereal company, and more specifically, his connection with the very cool "Mission Tiger" program. 
Mission Tiger – in case you missed the previous post – is a collaboration between Kellog's, Shaq and other partners nationwide to bring improved opportunities in school sports programs to middle schoolers. It's expected the program will eventually impact – in a very positive way – about 60,000 middle school students across the country. 
As of today, Mission Tiger is rolling out in six cities where O'Neal played professional basketball over 19 seasons. That includes Boston, Cleveland, Los Angeles, Miami, Orlando and Phoenix
For regular readers of ShaqFu Radio, you know that even though O'Neal retired from the NBA over a decade ago, he's been just as busy now in his "retirement" than he was during his playing time. Heck, more busy? How about that roster of TV commercials? Icy Hot, Epson, The General Insurance and Nestle Crunch and Papa John's Pizza easily come to mind. 
There's also his numerous philanthropic projects, including Mission Tiger. Next time you're in the grocery store, be on the lookout for those very cool boxes of Frosted Flakes with Crispy Cinnamon Basketballs cereal. Proceeds from sales of that particular product are going to Mission Tiger to improve and upgrade sports facilities and equipment for kids in various locations.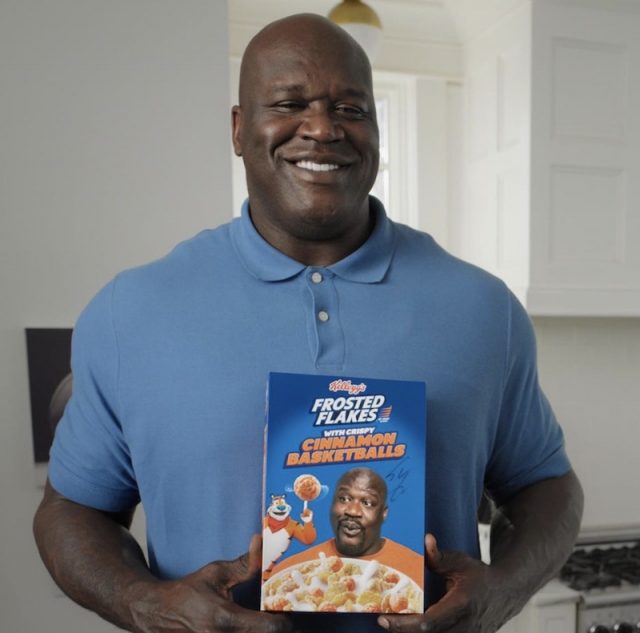 Fans can also participate in Mission Tiger by uploading their receipts to Kellogg Family Rewards. Kellogg is donating $2 per purchase to a program called DonorsChoose with each Kellogg's Frosted Flakes receipt uploaded. More info is available at www.MissionTiger.com
Also, if you haven't seen one yet, keep an eye out for TV commercials featuring both Shaq and Tony the Tiger. They're (pardon the pun) G-r-r-e-a-t! Shaq: "Seeing my face on a box of Kellogg's Frosted Flakes, my all-time favorite cereal, is a dream come true. Me and Tony the Tiger came together to help more kids by creating this new cereal."