Shaq and Damian Lillard have an interesting relationship. As rap stars and musicians, O'Neal and Lillard have had their share of musical battles. Of course they've never crossed paths on the court in an NBA game…how much fun would that have been? 
Anyway, Shaq is adding his voice to other NBA-watchers who are saying it may be time for Lillard to consider leaving the Portland Trail Blazers and find a team with more talent, so that he can win a ring or two. 
Time and time again, Lillard has said he has no plans to leave Portland. Is he ready to change his mind? Remember last season's playoffs – the Blazers were outed from the tournament early on by a relatively average Denver team. After the loss, Lillard was pretty honest when he said things needed to change in order for the team to become a Championship contender.
Lillard at the time: "We didn't win a championship, so obviously where we are now isn't good enough. I don't know what a shakeup looks like or what changes will be made or could be made, but obviously as is, it wasn't good enough. Obviously, where we are isn't good enough to win a championship if it's not good enough to get out of a first-round series with two of their best three or four players not on the floor."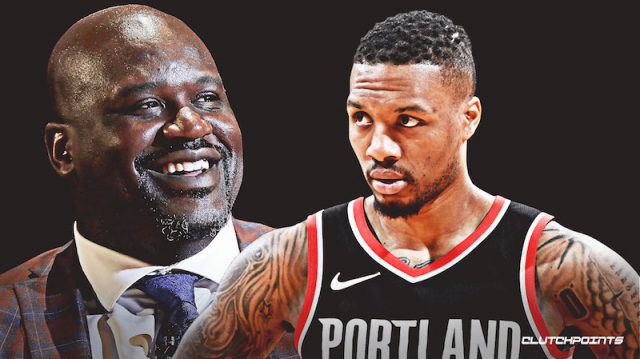 There was a small shakeup for the Blazers after the season. Long time coach Terry Stotts was fired. Still, there haven't – as yet – been any major roster changes. The new season is fast approaching, so we'll have to see if any big moves are announced. 
Talking recently on the Rich Eisen Show, Lakers legend Shaquille O'Neal had good things to say about Lillard for his desire to stay loyal the the Blazers. He saw some of himself in that kind of thinking. 
Shaq: "He is an old school mentality guy that's playing in the new school. The old-school guy would say, 'I'm not teaming up with you, I'm gonna beat you'. But these new school guys would say, 'hey, let's team up to make it easier.' So that's the toughest decision for him."
Still, O'Neal also said it may be time for Lillard to leave the northwest and team up with other stars if he was serious about winning.
"I know he wants to stay in Portland and win it out, but he may have to switch up his mentality. If everybody else is doing it, then that's just gonna keep him further from winning a championship. I don't really like guys teaming up, but it's just the way it is these days. If he can get to a team that already has two or three guys, and you add him? That raises his chances of winning a championship."
Shaq is right – in today's NBA, the superstars seem to have their own private chat channel, scoping out teams where they can get together and create a good chance of winning a Championship. The league is definitely different now!
Lillard staying in Portland is for sure commendable, but it may cost him a chance at any kind of NBA title. If he's truly serious about winning titles, he may have to look to team up with other superstars. The chances of attracting a couple of big names to Portland seem slim at best… meaning "Dame Dolla" will have to pack his bags for another town to find his chance at NBA history.