If you're a regular reader of the ShaqFu Radio blog, you probably know about Big Chicken, Shaq's very own fast-food restaurant chain. But unless you live in Las Vegas or Glendale, California (or have been aboard a Carnival Cruise Line ship), you've probably never eaten Big Chicken. Well, that's about to change. 
The franchise is making moves and deals to expand to a much bigger audience, in a variety of ways. For starters, several more Carnival Cruise Lines ships will be getting the restaurants. Currently, only the Carnival Mardis Gras is home to Big Chicken.
Along with the ship-board expansion, there's a plan to expand into Walmart stores. At this point, we're not sure if that means regular restaurant locations inside the stores, or perhaps it could mean Big Chicken heat-and-eat products for sale on Walmart shelves. Currently, plenty of Walmart stores have in-store restaurants from the likes of McDonalds and Dunkin. 
Along with those specialized deals, more traditional franchising is also in the works. In a business interview from the Big Chicken location just off the Las Vegas strip, O'Neal told a restaurant news website, "We're about to expand quickly, swiftly and correctly." That first Big Chicken location opened in 2018… with one more in Glendale opening in February 2020.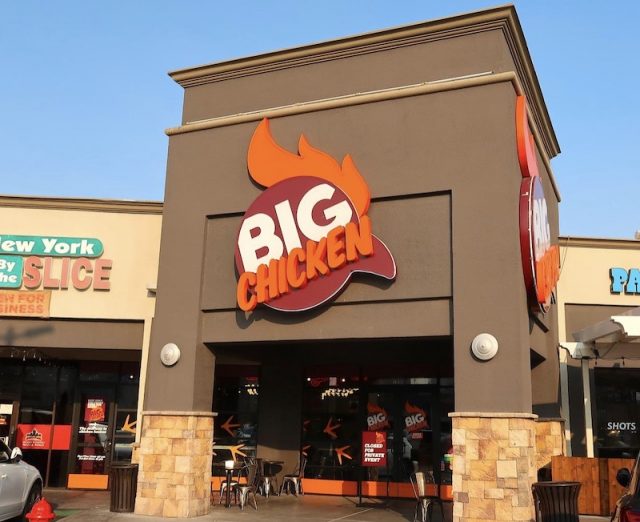 Shaq is majority owner / partner in Big Chicken, and he's got investments and promotional deals with a lot of other well-known companies. In addition, he's also a majority partner in Authentic Brands (ABG), a brand development, marketing and entertainment firm that owns a portfolio of iconic brands including Sports Illustrated, Elvis Presley and Forever 21. 
Big Chicken CEO Josh Halpern also talked about the upcoming expansion. "You basically have Shaquille O'Neal with two world class culinary chefs, guys that have a stellar reputation throughout Las Vegas who worked together to create a menu that was rooted in Shaquille O'Neal's passion."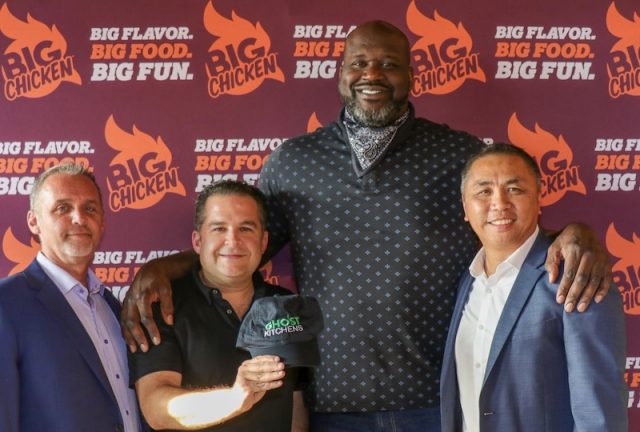 Halpern said the company already has plans to open restaurants in sports arenas, including the Climate Pledge Arena in Seattle, Wash., UBS Arena in New York and the Moody Center in Austin, Texas. Big Chicken is also looking for existing restaurant owner and operator groups in its new franchising push.
Of course O'Neal himself is no stranger to franchising. He is a franchisee and on the board of Papa John's International Inc. and has several Krispy Kreme donut shops, too. 
CEO Halpern: "People come to Big Chicken because they want to be attached to Shaquille O'Neal, who is one of the most popular celebrities in the world with over 20 million social media followers and what not. But they keep coming back because the quality of the food is really, really great."
Our favorite menu item – which we can't wait to try: the Charles Barkley — which O'Neal said he instructed his chefs to make "big and sloppy." The big sandwich features mac and cheese, crispy fried onions and roasted garlic barbecue aioli.
As for Shaq, he said Big Chicken is very important to him. "When I was growing up, (my) mother really stressed education, having things to fall back on and following your dreams. I always wanted to own franchises. I remember me and [fellow professional basketball player] Magic Johnson, when I was 18, said, 'It's OK to be famous but at some point you want to start owning businesses.'"
Keep your eyes open for a Big Chicken – coming to your neighborhood!