A Shaq spotting way, way out west. The big man is expanding his restaurant empire into the great northwest, with the addition of O'Neal's Big Chicken restaurant in Seattle, Washington. 
This is definitely going to be something different for the brand. The restaurant is opening inside Seattle's Climate Pledge Arena, the venue where the brand-new Seattle Kraken NHL hockey team is going to play this season, and where the Seattle Storm of the WNBA currently play home games. Shaq was spotted modeling a Seattle Kraken jersey this week to celebrate the opening. We're pretty sure they had to make it special for Shaq, but we've got to say… it looks pretty darned good! The big "S" logo on the front makes for a good Shaq / Seattle tie-in as well…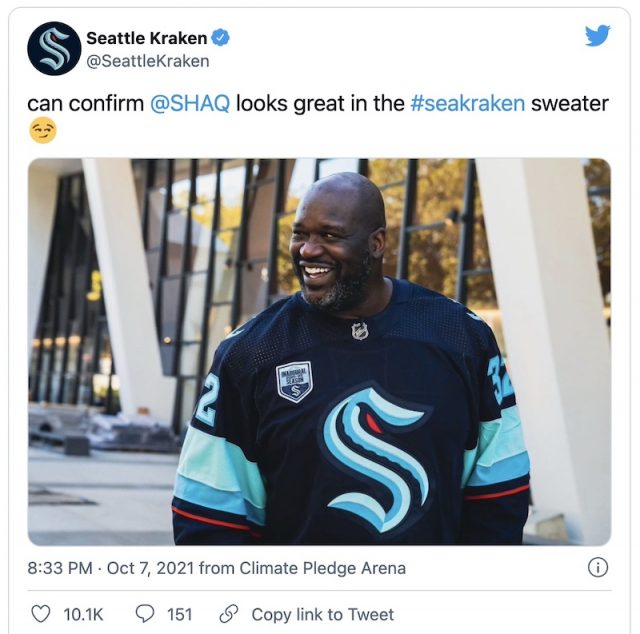 The move to open a Big Chicken restaurant inside a sports arena is a first for O'Neals' company. Since the location is inside the "Climate Pledge" arena, the restaurant is getting some special new environmentally-friendly technology. Also, the restaurant will feature a sandwich exclusively created for the Seattle market.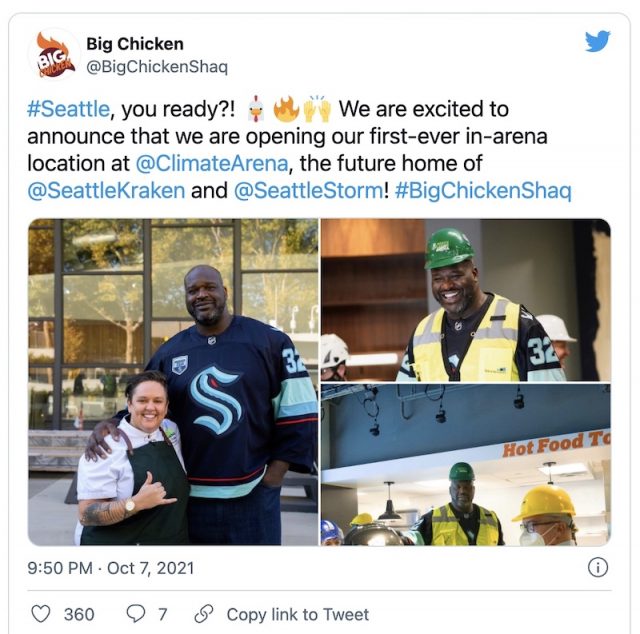 Shaq's business empire continues to expand. Regular readers of the ShaqFu Radio blog know that O'Neal has leveraged his post-NBA career popularity by becoming a spokesman and commercial / marketing partner to a lot of different brands, including Carnival Cruise Lines, The General Insurance and others. 
He's also deeply involved in several businesses both on and off TV and the internet. Along with being a regular on TV commercials for Papa John's Pizza, O'Neal is also on the Board of Directors for the company. He also owns several of the company's franchise stores, mainly in the Atlanta area.
With the Big Chicken restaurant chain, Shaq has jumped into owning and operating his own business, not just serving as a marketing partner. Big Chicken has only a few outlets right now (including one aboard a Carnival Cruise liner) and one in Las Vegas, but there have been announcements about expansion plans. 
Obviously this move into Seattle is part of that growth plan. We'll have to see where the Big Chicken lands next!