Interesting question!
In a recent Reddit post, a gaggle of NBA fans debated if they would pick LeBron James or Shaq as Number One overall… IF they were available in the same draft class. Details to come…and thanks to our friends at TheSportsRush.com for details on this story
As we've detailed in many posts over the years, Shaq is arguably the most dominant player in the history of the NBA. In the period between the late '90s and early 2000s, no players was more dominant, more exciting to watch than O'Neal.
As a winner of four Championship rings, Shaq absolutely had the ability to rise and shine above the rest of the competition on a game-by-game basis. Not only that, he was doing it in an era that saw a plethora (good word, eh?) of fantastic big men around the league. We're talking about monster talents like Fame level centers Hakeem Olajuwon, Tim Duncan, David Robinson and more. 
Meanwhile, King James has certainly been one of the more dominant players of the last decade. Check the stats: no player has impacted the game more since LeBron first broke into the league fresh out of high school in 2003. Three rings – to date – and a body of work that has already put him in G.O.A.T. conversations among fans nationwide. 
So…the question appeared on Reddit: If Shaq and LeBron had come out in the same year – been in the same draft class – who's your pick? Shaq-history fans know that O'Neal was the first pick of the draft class of 1992 by the Orlando Magic.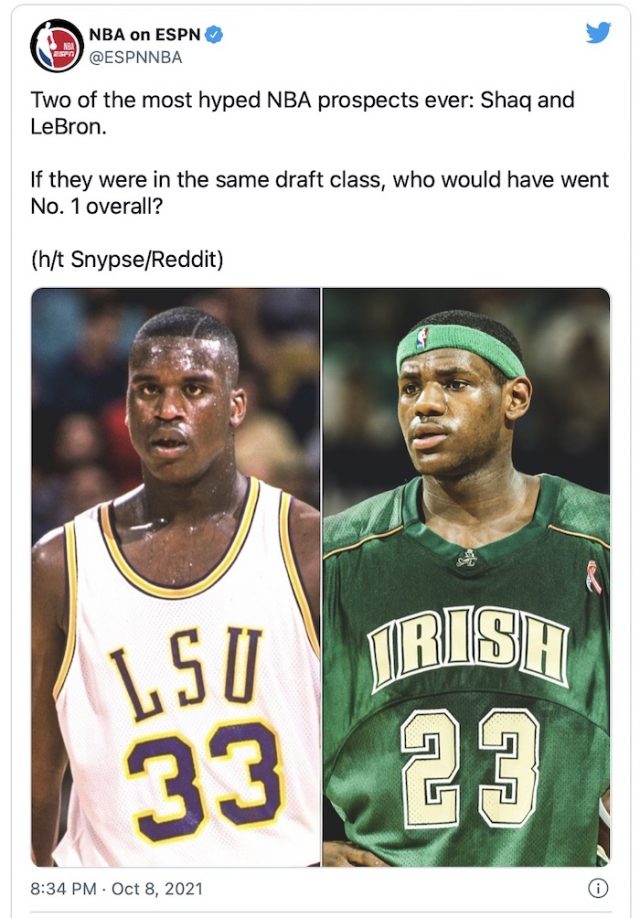 Playing style: Shaq dominated opponents by using brute force and raw power, whereas LeBron did it with strength as well as finesse. Shaq demanded the ball and dunked on your favorite team's center. In contrast, LeBron is certainly an awesome shooter, but he's also perfectly at home dishing the rock to a teammate when the timing is right for someone else to make the basket. 
In terms of raw numbers, the slight edge goes to LeBron. He's got more All-Star, All-NBA, All-Defensive, and more MVPs than Shaq. Still, the one number that really counts is rings, and that's where Shaq (for now, at least) still has the edge. LeBron has some playing time left, and that means time for more awards and maybe even rings. 
Sure, LeBron has more points per game and shots per game compared to Shaq and he's obviously a better shooter than Shaq ever was. The big man's "interesting history" with free throws is a thing of legend in the NBA. However, Shaq has the advantage in per-game rebounds and blocks. 
When it comes to defense, there's really not much comparison. Sure, it's exciting to see LeBron run down some fast break from behind and make a spectacular block, but Shaq on defense was un-scorable-on. (Is that a real term? Should be…)

And if we're really building a team here (remember, the question was who you would take as your first-round overall pick), it's probably going to be a better bet to go with Shaq. LeBron needs a few other special pieces to create a strong team. Shaq, on the other hand, was a one-man wrecking crew, and would fit into any team right from the start. 
Playing with teammates like Penny Hardaway, Kobe Bryant, and Dwayne Wade during his tenure in the NBA, Shaq was a superstar with them all, making big contributions to his various teams. 
Both players were dominant during their primes in the NBA. They both absolutely did it on their own terms, in their own – different – special ways. First round pick? You couldn't go wrong with either of 'em.