Regular readers of the ShaqFu Radio blog already know that the big man is a fan of law enforcement. He's a deputy sheriff in several locations, and he's helped out and participated in several community events nationwide. Now Shaq is putting some of his own money into the reward fund offered to help find a suspect in a shooting that left a Georgia county police officer wounded last week (as of this writing).
Lawmen are offering a $30,000 reward to find the suspect who shot a police officer Paramhans Desai. That officer remains hospitalized, fighting for his life. 
Police records show Desai was shot while responding to a domestic disturbance last Thursday when he was trying to make an arrest, police said. Desai was taken to a local hospital, where he remains in critical condition.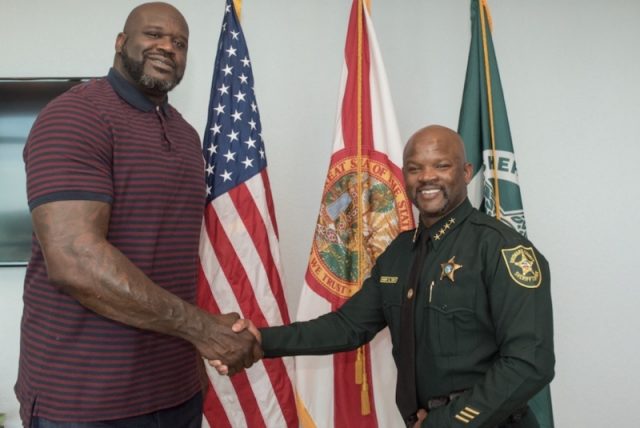 Henry County is southeast of the greater Atlanta area. The suspect has already been identified as a 22-year-old local man. He's wanted on charges of aggravated assault in connection with the shooting. Police say they also have a description of the car the man used to flee the scene, and he's being described him as "armed and dangerous." 
Efforts to catch Jackson have ramped up in recent days. The Henry County Sheriff's Office is offering $10,000, the U.S. Marshals Office is contributing $10,000, Crime Stoppers Atlanta is giving $5,000 and O'Neal himself is donating $5,000 – for a total reward of $30,000. 
During the NBA season, Shaq lives in Henry county while working on TNT networks' "Inside the NBA" program. O'Neal was hired earlier this year to be the director of community relations for the Henry County Sheriff's Office.
In Atlanta, the local CBS TV station WGCL-TV reports officer Desai is married and has two small children. Desai, whose law enforcement career has spanned 17 years, worked for the Georgia Department of Corrections and the DeKalb County Police Department before joining the Henry County Police Department. 
For more information about the case, here's the story from the local Atlanta-area TV station: