Shaq… a real, live movie star? We all know the big man has been in a few movies, but there was – a long time ago – a chance that O'Neal could have had a major starring role in what's become an almost classic picture.
In a recent podcast interview (as of this writing) Shaq revealed that he had been offered a big (really big) role in the movie "The Green Mile" which starred (among others) Tom Hanks. 
The role Shaq talked about was filled by another really big man (and professional actor) Clarke Duncan. Duncan was nominated for the Best Supporting Actor academy award for the role. Unfortunately, Duncan passed away back in 2012 at the young age of 54. The movie itself was nominated for the Best Picture award that same year. 
So yes, Shaq was offered the role. Yet he turned it down! On the "Marchand and Ourand" sports media podcast, Shaq talked about the decision. Thanks to that podcast and the New York Post / Sports Business Journal for information for this story. 
Hosts of the podcast asked O'Neal about the role, and the big decision to turn it down. "That was my role in 'Green Mile,'" O'Neal said. "I turned it down." When asked why, Shaq had this to say: 
"I didn't want to play the down-South African American guy during slavery," he said. "I didn't want to play that role. But the guy who played it, Michael Clarke Duncan, did an excellent job. I think I made the right decision because he did way better than I could have done, but I got offered that role."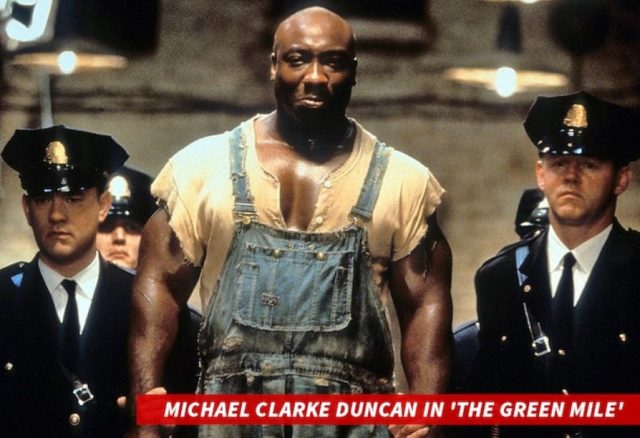 As we mentioned, but Duncan and The Green Mile were both nominated for Academy Awards in 2000, but didn't win. The awards went to Michael Caine for "The Cider House Rules" and the film "American Beauty," respectively.
If he'd taken the role, what a change it would have been for the big man! Previously, Shaq had some fun roles in comedy and adventure flicks like the 1990's films "Kazaam" and "Steel." 
In The Green Mile, the part played on screen by Duncan was a character named John Coffey. He's a man who is wrongly convicted of murdering two girls. As the plot develops, it's found that Duncan's character has special powers that can cure people of their ailments.
With a huge star like Tom Hanks and a super-interesting story, the flick is a big favorite of movie critics and fans alike. Coffey, ultimately played by the late Michael Clarke Duncan, is one of the most iconic movie characters in cinema history.
As for Shaq, he was still with the Lakers when the movie offer came along in 1999. It would have been hard for him to find the time to prepare for and star in a major Hollywood production. "I think I made the right decision because he (Duncan) did way better than I could have done," Shaq said. "But, I got offered that role."