As a regular reader of the ShaqFu Radio blog, you know that our man Shaq has his big hands in a number of different businesses and investments. One of his favs is of course his own restaurant chain, called Big Chicken. This week, Big Chicken is getting even bigger, with another new deal signed for a new location. 
Seems to be a little pattern developing here. Not long ago, we reported that Big Chicken was opening in Climate Pledge Arena in Seattle, home to the newly-minted Seattle Kraken NHL franchise. 
Now the latest incarnation of Big Chicken is in another new sports facility, the beautiful new $1.5 billion dollar UBS Arena, the new home of the New York Islanders hockey team. 
Originally, Big Chicken started small, with locations in Las Vegas and in Glendale, California. There's also an outlet of the eatery on board a Carnival Cruise Lines ship. O'Neal is one of the cruise lines big promotional partners. You've probably seen some of his TV commercials with Shaq as CFO – Chief Fun Officer.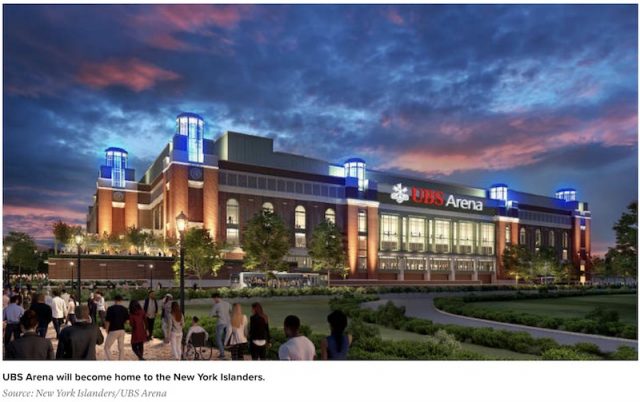 Seems O'Neal is moving his focus for the restaurant chain to sports arenas. No big surprise, since he knows a lot about the sports business, having been a superstar player for many years, and now keeping his connection as one of the regular commentators on TNT networks "Inside the NBA" program. 
As for the new location at UBS Arena, Big Chicken will sell its fried chicken sandwiches during NHL games and other events at the complex. The Arena is located behind the track for the Belmont Stakes and is scheduled to host its first regular-season game on Nov. 20, when the Islanders play the Calgary Flames.
O'Neal attended a recent ribbon-cutting at the arena, while also talking about his favorite menu items. "This is my ritual," he reporters. "Fried chicken with cheese, pickles and hot sauce."
O'Neal started Big Chicken with his friend Matt Silverman, and agent Perry Rogers. It's not his first foray into the food industry. O'Neal owns various Papa John's locations, and even makes an appearance in a commercial for the pizza chain. In 2019, he joined the company's board.
But this task is a much different one for O'Neal, because he's starting the brand from scratch. One of the sandwiches on the Big Chicken menu is called Uncle Jerome, named after O'Neal's uncle. Another is called Charles Barkley, an nod to the former NBA star and O'Neal's broadcasting partner on "Inside the NBA." Barkley's namesake sandwich comes with mac and cheese on top of the chicken, along with crispy onions and "Shaq sauce." (OK, now we're hungry…) 
Big Chicken also features the MDE, which stands for Most Dominant Ever, and is meant to describe O'Neal's career as star center with the Los Angeles Lakers, Orlando Magic and other teams. 
So far, there's no Big Chicken anywhere near the offices of the ShaqFu Radio blog… but we can't wait to try out the chickeny goodness!