As any good Shaq-fan knows, the big man is a big part of the TNT network's super-popular "Inside the NBA" program, which airs every night during the NBA season. Recently, O'Neal talked about what prompted him to sign on with TNT after his on-court career ended. 
Shaq was of course one of the most well-known players in the game during his career. Championship-winning seasons in Los Angeles with the Lakers and in Miami with the Heat. Now the Hall of Famer is part of one of the longest and most-successful running television sports shows, Inside the NBA.
Along with Shaq, Inside the NBA features main host Ernie Johnson along with Kenny Smith and (Sir) Charles Barkley. The show has revolutionized sports broadcasting, with others following suit. During an appearance on The Marchand and Ourand Sports Media Podcast, Shaq revealed why he chose Turner Sports over ESPN.
Shaq told the podcast audience that ESPN was very much interested in bringing him on board. The interesting thing was that O'Neal says he believed that while ESPN needed him, Turner Sports told him they don't need him but would like to have him. In addition, the three-time Finals MVP added that Ernie Johnson played a crucial role in him signing with TNT.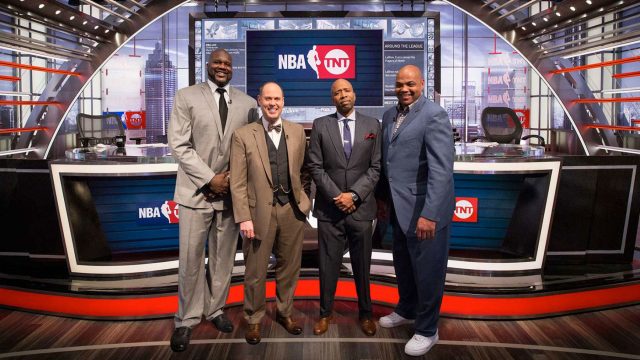 Shaq talked about the time one of the big bosses from TNT visited him right at his home. "(He said) 'We don't need you, but we would like to have you. ESPN was saying we need you. So, I was thinking if I have a bad day at Turner, I'm gonna be OK. But if I have a bad day at ESPN, it can only get worse."'
Along with TNT managers, Shaq also says Ernie Johnson was another big reason why he chose Turner Sports. Shaq has always held the veteran host in high regard.
"Listen, I have a different type of love for Ernie Johnson," Ernie Johnson was a guy that I used to watch on TV. He actually came to my house when I was 17-years old to interview me. I love his voice. I love how he treats people.
"I'm not as good as Ernie. So, me being by myself, I'm gonna have to carry. I don't think my ADHD would allow me to carry a show by myself. Being a teammate on a great team I think has done well for us. Just being one of the guys is something I enjoy, rather than trying to be the guy. I could never do what Ernie does."
Of course the decision to join Inside the NBA also meant that Shaq would be paired up with Charles Barkley, and those two have created some of the funniest, most iconic moments in the show's history. 
It's true… TNT's Inside the NBA has become an integral part of the whole experience of watching an NBA game and knowing what's going on in the Association on a daily basis. It's a fan favorite for good reason, and we look forward to watching for seasons to come.