He's starred in a couple of movies, and done a little bit of "producing" as well. Now NBA great Shaquille O'Neal is joining up with the team that's producing a full-on documentary about a woman they call the "The Queen of Basketball."
Shaq will be one of the executive producers of the film that's been created by the documentary / film division of the New York Times. The film tells the story of Lusia "Lucy" Harris, one of the greatest women basketball players in U.S. history. The film has already been produced… Shaq is helping with promoting it now that "awards season" is getting started. 
Never heard of her? Probably because when Harris was at the peak of her career, there was no such thing as the WNBA or for that matter much of a following of woman's basketball in general. 
Still, Harris was a superstar, no doubt. She was part of the teams that won three national titles in college, and part of the silver medal-winning women's basketball team at the 1976 Olympic Games in Montreal. Interestingly, she was the first woman to score a basket in Olympic history.
Harris would go on to become the first woman ever officially drafted by an NBA team, when the New Orleans Jazz (now the Utah Jazz) selected her in 1977 in the 7th round. She's been inducted into both the pro basketball Hall of Fame and the Women's Basketball Hall of Fame.
In a prepared statement, Shaq said, "Lusia 'Lucy' Harris' heroism has gone unsung for way too long and I am particularly proud of my involvement in bringing her story to bear. A living legend and a pioneer in both men's and women's basketball, her life is a significant example of fortitude that is sure to inspire."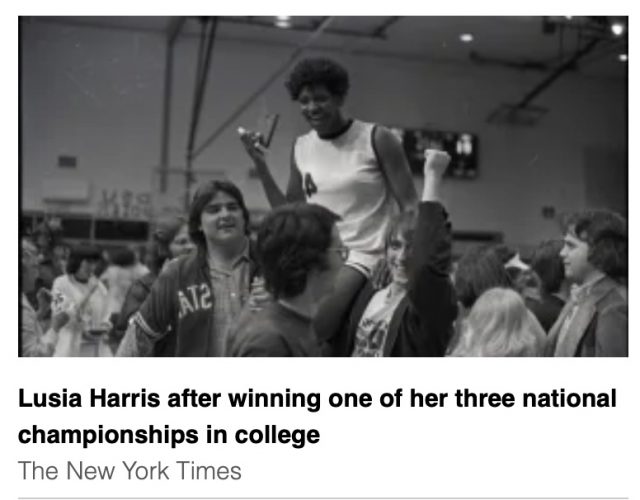 The film is already doing very well with critics. Recently, the film won Best Documentary Short at the Critics' Choice Documentary Awards, and it's been awarded a Special Jury Mention from DOC NYC, with jurors noting, "Viewers fall in love with Lusia because the filmmakers deftly convey her deep strength and fragility at the outset. We are immersed in the experience of a pathfinding woman athlete whose remarkable career was cut short by the racial and gender barriers of her time."
The man behind the film is director Ben Proudfoot. He talked about Shaq's support for the project: "When Shaq and his team reacted to the film with such generosity and support, we were blown away and just thrilled for Lucy. In a way, Shaq is stepping up to assist Lucy in having the career moment she never got. It's a special moment of solidarity between two remarkable players."
Harris herself is happy to have O'Neal on board: "I am excited that Shaquille O'Neal decided to join as an executive producer for The Queen of Basketball. Shaq is one of my favorite basketball players and I have enjoyed following his career after the game. I truly appreciate having his support for this project."
New York Times film executive Lindsay Crouse also talked about Shaq's involvement: "We are thrilled that Mr. O'Neal sees the same fearless spirit and joy in Lucy's story that made us want to share it with our devoted audience. His willingness to use his platform to boost her legacy will help ensure it is seen and celebrated by generations of ambitious young women to come—ensuring they know a pioneering woman in sport who helped forge the path."